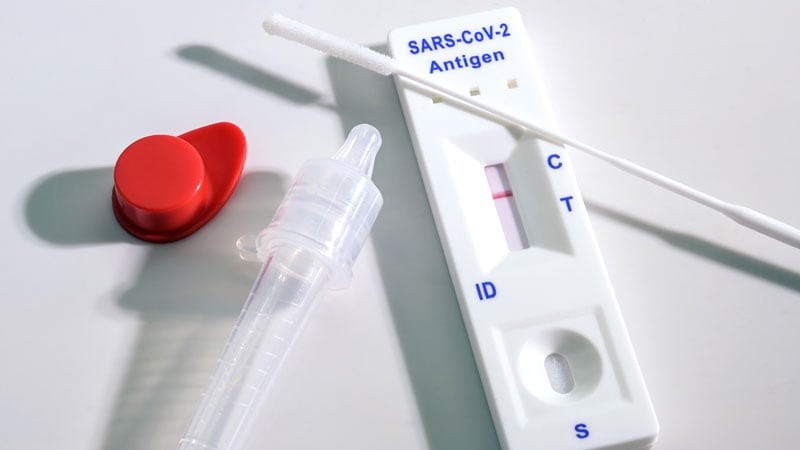 Editor's note: Find the latest COVID-19 news and guidance in Medscape's Coronavirus Resource Center.
Americans can order free at-home COVID-19 tests from the federal government again.
During this round, the U.S. Postal Service will deliver eight rapid antigen tests to any household in the U.S. for free. That means a total of 16 tests have been offered per household so far. Those interested in ordering tests again can do so by visiting COVIDTests.gov.
The White House officially announced the third round of free tests on Tuesday morning, according to NPR, though the site appeared active and able to take orders on Monday.
"As the highly transmissible subvariants of Omicron drive a rise in cases in parts of the country, free and accessible tests will help slow the spread of the virus," the White House said in a news release on Tuesday.
More than 95,000 new coronavirus cases are being reported daily, according to the data tracker by The New York Times, marking an increase of more than 57% in the past 2 weeks.
Hospitalizations have begun to climb as well. About 23,000 COVID-19 patients are hospitalized across the country, according to the latest data from the U.S. Department of Health and Human Services. That's an increase of about 26% in the past 2 weeks.
The number of patients in intensive care has also begun to inch up and is expected to continue climbing in the coming weeks. About 2,300 patients are in intensive care, the Times reported, which is up 17% in the past 2 weeks.
During the height of the first Omicron wave, as COVID-19 cases surged and tests were hard to find, the Biden administration announced it would order 1 billion tests to distribute for free, with 500 million going toward the COVIDTests.gov program.
The Biden administration has been criticized for not supplying enough tests to American households. Officials previously said they were holding back to see how much demand there was, NPR reported.
Four months into the program, about 350 million tests have been given away to 70 million households, or more than half of the households in the U.S., White House officials said Tuesday.
During the first round of tests sent out in January and February, households could order four tests. The second round in March provided four more tests per household. The current round doubles that with eight tests, adding up to 16 tests per household so far this year.
People who have a hard time getting on the internet or need help placing an order can call 800-232-0233 to receive help in English, Spanish, and more than 150 other languages. For more information, people can also visit the COVID.gov Frequently Asked Questions page.
SOURCES:
COVID.gov: "Get free at-home COVID-19 tests," "Frequently Asked Questions."
NPR: "The federal government is offering another round of free COVID tests."
White House: "Fact Sheet: The Biden Administration Announces Americans Can Order Additional Free At-Home, Rapid COVID-19 Tests at COVIDTests.gov."
The New York Times: "Coronavirus in the U.S.: Latest Map and Case Count."
U.S. Department of Health and Human Services: "Hospital Utilization."