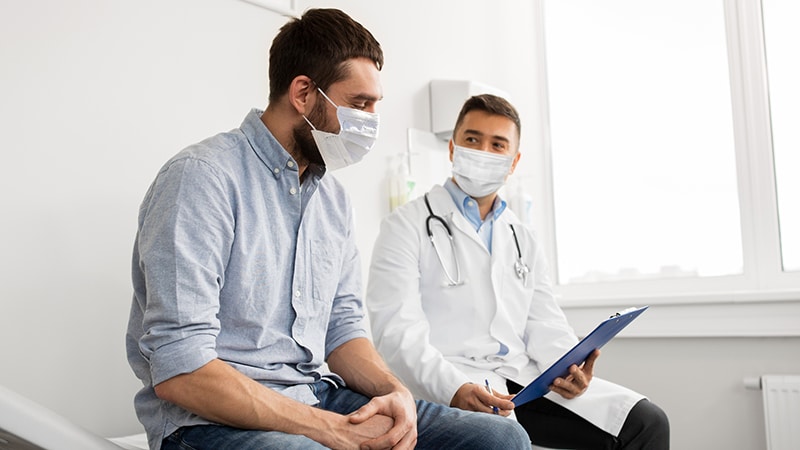 Editor's note: Find the latest COVID-19 news and guidance in Medscape's Coronavirus Resource Center.
A subcutaneous antibody combination of casirivimab and imdevimab given to asymptomatic people who tested positive for SARS-Cov-2 significantly lowered the incidence of symptomatic COVID-19 over 28 days, new research shows.
Results of the study by Meagan P. O'Brien, MD, from Regeneron Pharmaceuticals, one of the study's funders, and coauthors, were published online January 14 in an original investigation in JAMA.
The results suggest new potential for monoclonal antibodies currently used for postexposure prophylaxis and treatment of symptomatic SARS-CoV-2. It has not been clear whether monoclonal antibodies can benefit people with asymptomatic SARS-CoV-2 infection.
The trial included 314 participants (mean age, 41 years; 51.6% women). Of the participants, 310 (99.7%) completed the efficacy assessment period, and 204 were asymptomatic and tested negative at baseline and were included in the primary efficacy analysis.
The subcutaneous combination of casirivimab and imdevimab, 1200 mg (600 mg each), significantly prevented progression to symptomatic disease (29/100 [29.0%] vs 44/104 [42.3%] with placebo; odds ratio, 0.54 [95% confidence interval (CI), 0.30 to 0.97]; P = .04; absolute risk difference, −13.3% [95% CI, −26.3% to −0.3%]).
These results were part of a randomized, double-blind, placebo-controlled, phase 3 trial of close household contacts of a SARS-CoV-2–infected person at 112 sites in the United States, Romania, and Moldova. They were enrolled July 13, 2020–January 28, 2021; follow-up ended March 11, 2021.
Asymptomatic people at least 12 years old were eligible if identified within 96 hours of index case positive test collection and were randomly assigned 1:1 to receive one dose of subcutaneous casirivimab and imdevimab (n = 158), or placebo (n = 156).
COVID-19 vaccination was prohibited before enrollment but was allowed after completing the 28-day efficacy assessment period.
Caution Warranted
However, in an accompanying editorial, Jonathan Z. Li, MD, Brigham and Women's Hospital and Harvard Medical School, Boston, Massachusetts, and Rajesh T. Gandhi, MD, Massachusetts General Hospital and Harvard Medical School, urged caution in interpreting the results.
They write that although monoclonal antibodies are generally used in individuals at high risk for severe COVID-19, this study population was less vulnerable, with an average age of 41, and 30% had no risk for the disease.
"[O]f the remainder, the most common risk factor was being overweight (which confers less risk than other factors)," the editorialists write.
They point out, as do the study authors, that enrollment came before the emergence of the Delta and Omicron variants, and that both casirivimab and imdevimab maintain their activity against Delta but not against Omicron.
"While prevention of symptomatic infection has benefits," they write, "the primary goal of monoclonal antibody therapy is to prevent progression to severe disease; however, this trial was unable to assess this outcome because there were only 3 hospitalizations (all in the placebo group). Also, this study was conducted prior to widespread COVID-19 vaccination; whether monoclonal antibodies have the same benefit in people who have breakthrough infection after vaccination is not known."
The editorialists highlighted the subcutaneous delivery in this study.
They write that O'Brien and coauthors provide evidence that subcutaneous administration is effective in infected individuals.
"However, high serum monoclonal antibody levels are achieved more quickly after intravenous administration than following subcutaneous injection; it is unknown whether intravenous administration might have led to even greater efficacy for individuals with asymptomatic SARS-CoV-2 infection."
The authors of the study also add that despite efforts to recruit non-White participants, relatively few non-White people were enrolled. Additionally, few adolescents were enrolled.
The sample size was also relatively small, they acknowledge, due to a study design in which the infection status of asymptomatic participants was not confirmed at inclusion.
JAMA. Published online January 14, 2022. Full text, Editorial
Marcia Frellick is a freelance journalist based in Chicago. She has previously written for the Chicago Tribune, Science News, and Nurse.com, and was an editor at the Chicago Sun-Times, the Cincinnati Enquirer, and the St. Cloud (Minnesota) Times. Follow her on Twitter at @mfrellick.
Several of the authors are employees/stockholders of Regeneron, and have a patent pending, which has been licensed and is receiving royalties. A full list of disclosures is available with the full text.
The study was supported by Regeneron Pharmaceuticals Inc and F. Hoffmann-La Roche Ltd. This trial was conducted jointly with the NIAID, NIH. The CoVPN (COVID-19 Prevention Network) is supported by cooperative agreement awards from the NIAID, NIH.
Editorialist Li reports consulting for AbbVie and Recovery Therapeutics. Gandhi reports previously serving on an advisory board for Merck Scientific.
For more news, follow Medscape on Facebook, Twitter, Instagram, YouTube, and LinkedIn.