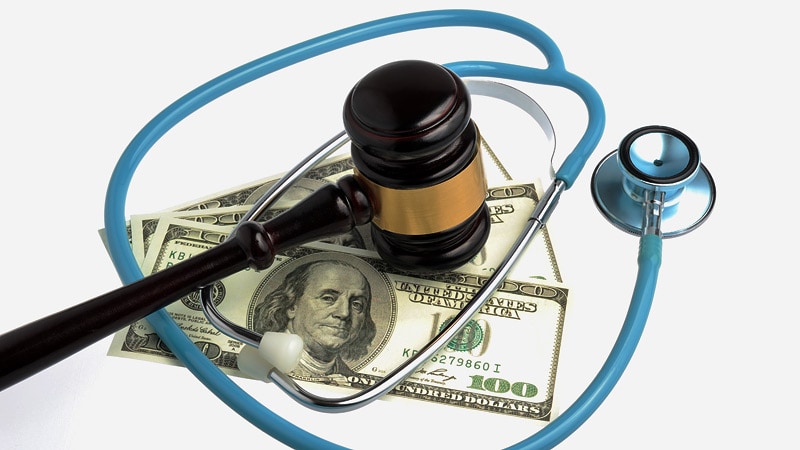 More than half of anesthesiologists report being named in a lawsuit at least once in their career and the specialty continues to have one of the highest malpractice premiums, according to the Medscape Anesthesiologist Malpractice Report 2021.
Unlike other surgical specialties such as general surgery or plastic surgery, anesthesiology was not among the top 10 specialties most likely to be sued. In 2019, anesthesiology ranked 10th in the same list. In this year's report, plastic surgeons and general surgeons were most likely to be sued, with 83% of both specialties having been named in at least one lawsuit. Orthopedics ranked third (81%) and specialized surgery ranked sixth (74%).
Still, slightly more anesthesiologists reported being named in lawsuits compared with all physicians (54% vs 51%). However, just 8% of them were individually named in suits, with most anesthesiologists (48%) reporting being listed along with other physicians in a lawsuit. Across all specialties, 13% of physicians reported being the only individual named in a suit.
Although only a small percentage of anesthesiologist respondents (14%) said they had been named in a suit because of the actions of a nurse practitioner or physician assistant, this was more common in anesthesiology compared with all specialties (9%).
This new report was compiled from an online survey including more than 4300 physicians from 29 specialties. The survey was available from May 21 to August 28, 2021 and included 407 anesthesiologists. More than half of respondents (51%) had practiced anesthesiology for more than 25 years and 53% were aged 60 years or older.
In anesthesiology, the most common reason for a lawsuit was complications from treatment and surgery (48%), abnormal injury of a patient (27%), and wrongful death (18%.) This differs from physicians overall, who were most commonly sued (31%) for failure to diagnose or delayed diagnosis. Only 10% of anesthesiologists listed failure to diagnose as the reason for a lawsuit.
Across all specialties, anesthesiologists paid some of the highest malpractice premiums. Nearly one quarter (24%) reported paying between $10,000 to $15,000 annually for malpractice insurance, and 17% said they paid between $15,000 to $20,000. This is consistent with Medscape's previous malpractice survey in 2019, where anesthesiologists ranked fourth among all specialties in malpractice premiums.
Nearly one third (32%) of lawsuits were settled before trial, similar to physicians in general, who reported that 33% of cases were settled out of court. 13% of anesthesiologists reported being dismissed from the suit in the first few months, and 12% reported being dismissed from the suit prior to settling. When a case did go to trial, only 2% reported that the jury ruled in favor in the patient, whereas 9% said the jury returned the verdict in the respondent's favor.
When the patient was awarded a monetary payment, anesthesiologists tended to pay more than the general pool of physicians. Only 32% of anesthesiologists reported that the patient received under $100,000, compared with 40% of all physicians surveyed. Among the anesthesiology specialty, 30% said patients received up to $500,000 and 20% reported monetary payments up to $1 million. And 7% of cases resulted in the plaintiff receiving more than $2 million, compared with 4% of cases in the general physician pool.
Nearly half (47%) of anesthesiologists said they would have done nothing differently, and 22% noted they would have better chart documentation. Most respondents (60%) said no attitude or career changes occurred after the lawsuit, and more than one fifth (22%) said they trusted patients less or treated them differently. Wrote one respondent, "It soured me on medicine and made me hesitant to take challenging cases."
Nearly all respondents (99%) said they had not been named in a lawsuit surrounding a COVID-allegation, but 10% reported concerns about being sued for malpractice over a COVID-related issue during the pandemic. Wrote one anesthesiologist, "I think we could see claims related to overtreatment of COVID resulting in poorer outcomes, due to initial lack of knowledge on how to treat."
For more news, follow Medscape on Facebook, Twitter, Instagram, YouTube, and LinkedIn