GHENT, Belgium – Patients with nonradiographic or radiographic axial spondyloarthritis (axSpA) experienced clinically relevant treatment responses to bimekizumab (Bimzelx) at similar rates that significantly exceeded placebo, regardless of prior experience with a tumor necrosis factor (TNF) inhibitor, according to results from two phase 3 trials presented at the 13th International Congress on Spondyloarthritides.
In addition, around half of patients with either nonradiographic or radiographic disease achieved complete remission of enthesitis by week 16 of treatment with bimekizumab. The drug, a humanized, monoclonal antibody dually inhibiting interleukins (IL) 17A and 17F, is approved in the European Union for treating adults with moderate to severe plaque psoriasis.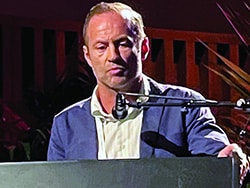 "Bimekizumab blockade works independently of axial spondyloarthritis pretreatment, which means this drug specifically blocks something that other drugs do not reach," said Xenofon Baraliakos, MD, professor of internal medicine and rheumatology at Ruhr University Bochum (Germany). He presented 24-week data on the use of bimekizumab.
The BE MOBILE 1 trial involved patients with nonradiographic axSpA, whereas BE MOBILE 2 involved patients with radiographic axSpA. In both trials, bimekizumab 160 mg was administered subcutaneously every 4 weeks, and at week 16, all patients, including those who had received placebo, received open-label bimekizumab for another 8 weeks. This news organization previously reported results from BE MOBILE 2 that were presented at the European Alliance of Associations for Rheumatology (EULAR) 2022 annual meeting.
In Ghent, referring to the nonradiographic patients, Baraliakos said in an interview, "We saw a very clear response to the active drug even after 2 weeks. The curves separated out from placebo. The week 16 primary analysis showed patients on bimekizumab did significantly better, [and there was] a similar response in those who switched to [open-label] bimekizumab after placebo" at week 16.
In patients with nonradiographic disease at week 24, 52.3% on bimekizumab achieved the trial's primary outcome of 40% improvement in Assessment in Spondyloarthritis International Society response criteria (ASAS 40), compared with 46.8% of patients who were receiving placebo and then switched to open-label bimekizumab at week 16, the latter rising from 21.4% at week 16. For comparison, 47.7% on bimekizumab achieved ASAS 40 at week 16.
At week 24 in BE MOBILE 2, 53.8% of patients with radiographic disease on continuous bimekizumab met ASAS 40 criteria, as did 56.8% of patients who switched from placebo to open-label bimekizumab, rising from 22.5% with placebo and 44.8% with bimekizumab at week 16.
Audience member Fabian Proft, MD, of Charité Medical University, Berlin, commented on the latest results as well as wider bimekizumab findings, including those relating to psoriasis. "When we compare this to drugs that are already approved and available, we can assume that bimekizumab is equally effective to existing ones," he said, noting that "there is the additional option in patients with psoriasis, where it seems to be the most effective drug for this indication. If I had a patient with radiographic or nonradiographic axial SpA and who also had significant psoriasis, then bimekizumab would be my choice of treatment."
Targeting IL-17A and IL-17F in One Drug
In the BE MOBILE 1 study, Baraliakos and coinvestigators looked at whether inhibiting IL-17F as well as IL-17A "makes sense" in terms of clinical benefits in patients with axSpA.
"Previous experience with IL-17A inhibitors shows they work well but still miss some patients," Baraliakos said, adding that, "the hope is that by blocking both IL-17A and IL-17F, the response will be a bit better in terms of both greater response and longevity of response than [with an] IL-17A [inhibitor] alone."
Patients in BE MOBILE 1 were typical adult patients with nonradiographic axSpA who fulfilled ASAS classification criteria and had elevated C-reactive protein (CRP) and/or sacroiliitis on MRI. All patients were older than 18 years and had a mean age of 39 years. In each arm, 51%-57% were men. Overall, patients had a mean of 9 years of symptoms and a mean Ankylosing Spondylitis Disease Activity Score of 3.7 in both patient groups (placebo and bimekizumab).
All had active disease (Bath Ankylosing Spondylitis Disease Activity Index ≥ 4 and spi­nal pain ≥ 4) at baseline and demonstrated failure to respond to two different NSAIDs or had a history of intolerance to or contraindication to NSAIDs. Patients had previously received up to one TNF inhibitor (13.5% in the placebo group and 7.8% in the bimekizumab group).
The primary outcome compared rate of response to ASAS 40 criteria, which comprises patient global assessment of disease, spinal pain, function (as assessed by the Bath Ankylosing Spondylitis Functional Index [BASFI]), and inflammation (stiffness).
Early Response Seen Regardless of Previous TNF Inhibitor Experience
"We saw response to bimekizumab very early in our patients at 16 weeks. The amount of response was higher than that observed with IL-17A alone," Baraliakos said in an interview. "It's understood that IL-17A and IL-17F do not work together on the inflammatory cascade, but work separately, and this might explain the findings whereby this drug captures more inflammation."
Baraliakos highlighted the unique response rates seen with bimekizumab regardless of past TNF inhibitor use. "The TNF inhibitor-experienced patients responded as well as the TNF inhibitor–naive ones. This is unusual because nonresponders to other drugs are usually more severely affected and have a lower chance of showing response to any drug. Also, we did not see this response in patients treated with IL-17A only."
At 16 weeks, patients with nonradiographic disease without a past history of using a TNF inhibitor had ASAS 40 responses at rates of 46.6% with bimekizumab and 22.9% with placebo. These rates in patients with past TNF inhibitor use were 60% with bimekizumab and 11.8% with placebo.
Statistically significant differences between bimekizumab and placebo occurred for all primary and secondary outcomes. "This includes the MRI inflammation findings in bimekizumab-treated patients," Baraliakos reported.
Complete resolution of enthesitis was also observed. By week 24, enthesitis completely resolved in 47.9% of patients with nonradiographic disease on continuous bimekizumab and 43.5% of those patients who switched from placebo to bimekizumab. In patients with radiographic disease, complete resolution occurred in 53% of those on continuous bimekizumab and 49.3% of patients who switched at week 16. "This was an excellent outcome," Baraliakos said.
The safety profile at 24 weeks confirmed prior findings at 16 weeks in which the most common treatment-emergent adverse events with bimekizumab were nasopharyngitis (9.4%), upper respiratory tract infection (7%), and oral candidiasis (3.1%); fungal infections overall occurred in 7% taking bimekizumab.
"We saw slightly higher fungal infections, but this is because we block IL-17A and IL-17F, and [the risk for these infections] is linked to the mechanism of action. But we can deal with this," Baraliakos said.
The trials were sponsored by UCB. Baraliakos disclosed serving on the speakers bureau and as a paid instructor and consultant for Ab­bVie, Bristol-Myers Squibb, Chugai, Eli Lilly, Galapagos, Gilead, Merck Sharp & Dohme, Novartis, Pfizer, and UCB. Proft disclosed serving on speakers bureaus for Amgen, AbbVie, Bristol-Myers Squibb, Celgene, Janssen, Merck Sharp & Dohme, Novartis, Pfizer, Roche, and UCB; being a consultant to Novartis; and receiving grant or research support from Novartis, UCB, and Lilly.
This article originally appeared on MDedge.com, part of the Medscape Professional Network.