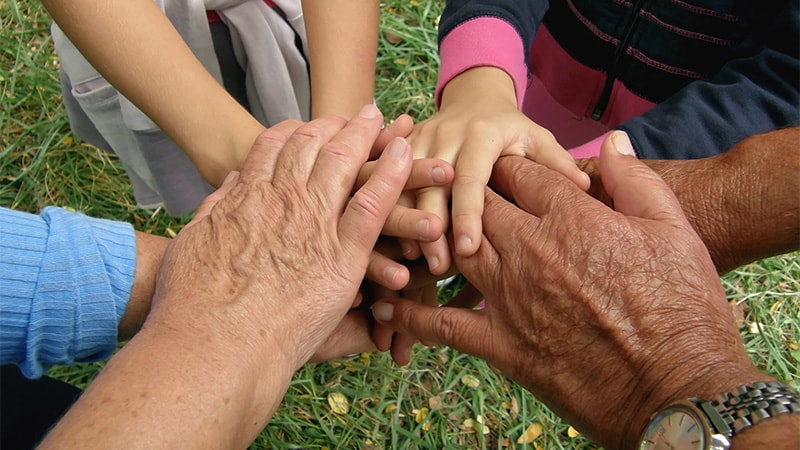 People whose parents live into their 90's are at lower risk than the general population for type 2 diabetes…and so are their spouses, new research suggests.
The findings, from the multicenter cohort Long Life Family Study (LLFS), were published online recently in Frontiers in Clinical Diabetes and Healthcare. The work was conducted by Iva Miljkovic, MD, PhD, of the Department of Epidemiology, Graduate School of Public Health, University of Pittsburgh, Pittsburgh, Pennsylvania, and colleagues.
This follow-up of 582 two-generation families in which one parent lived to age 90 years or beyond "suggests that offspring of exceptionally long-lived individuals and their spouses, especially at middle-age, may share a similar, low risk for developing type 2 diabetes compared with the general population," Miljkovic and colleagues write.
The authors also point out that the findings "raise the possibility that distinct biological risk factors may contribute to type 2 diabetes risk among offspring of exceptional survivors compared with their spouses."
Type 2 Diabetes Risk Lower Among Those With Longer-Living Parents and Their Spouses
The investigators followed 583 two-generation families from four centers ― in Boston, New York, Pittsburgh, and Odense, Denmark. The LLFS included 4559 individuals aged 90 and older at enrollment in 2006–2009, 1445 of their siblings aged 80 and above, 2329 children of the 90+ group, and 785 of their spouses through 2017. An in-home follow-up examination was conducted during 2014–2017.
Among 1585 offspring and 495 spouses who did not have diabetes at study entry, 3.7% of the offspring and 3.8% of their spouses developed type 2 diabetes over the follow-up period. The annual incidence per 1000 person-years was 4.6 cases for the offspring and 4.7 for their spouses overall. It increased with baseline age, from 3.6 and 3.0, respectively, for ages 45–64 years to 7.2 and 7.4, respectively, for those aged 65 and older.
For comparison, the most recent National Health Interview Survey showed that in the general adult US population, the type 2 diabetes incidence per 1000 person-years is 6.9 overall, 9.9 for ages 45–64, and 8.8 for those aged 65 and older.
Some Diabetes Risk Factors May Differ Between Offspring, Spouses
Among the current study offspring, the odds of developing type 2 diabetes increased per standard deviation with baseline body mass index (odds ratio [OR], 2.55; P < .0001), waist circumference (OR, 2.52; P < .0001), and fasting serum triglycerides (OR, 1.56; P = .0042). The odds decreased with HDL cholesterol (OR, 0.56; P < .0042), adiponectin (OR, 0.60; P < .0024), and sex hormone–binding globulin (OR = 0.55, P < .0019).
Similar associations were seen among the spouses, except there was no significant association with sex hormone–binding globulin, and two additional factors increased the type 2 diabetes risk: circulating interleukin 6 (OR, 1.63; P = .048) and insulinlike growth factor 1 (OR,1.79; P = .04).
Lifestyle factors such as alcohol intake and physical activity were not associated with type 2 diabetes risk in either the offspring or the spouses.
Is "Assortative Mating" One Explanation for the Spouse Findings?
Genetic, epigenetic, and shared environmental factors are all likely at play, Miljkovic and colleagues say. For example, compatibility in lifestyle and shared leisure activities among couples who live together are common.
But interestingly, the authors note that the spouses were more likely to be physically active and to report moderate alcohol consumption than were the offspring. Both of these lifestyle factors may reduce type 2 diabetes risk. "Thus, it is possible that the protective familial genetic and biological factors impact glucose homeostasis among the offspring, whereas in their spouses the healthier lifestyles may in fact contribute to their lower type 2 diabetes risk."
Another possible explanation, Miljkovic and colleagues say, is that "people unconsciously tend to pick their partners through so-called 'assortative mating,' that is, tending to match their phenotypes and the underlying genotypes, including those that affect diabetes risk and longevity."
The LLFS is funded by the US National Institute on Aging–National Institutes of Health. The authors have disclosed no relevant financial relationships.
Front Clin Diabetes Healthc. Published online April 11, 2022. Full text
Miriam E. Tucker is a freelance journalist based in the Washington DC area. She is a regular contributor to Medscape, with other work appearing in the Washington Post, NPR's Shots blog, and Diabetes Forecast magazine. She is on Twitter @MiriamETucker.
For more diabetes and endocrinology news, follow us on Twitter and Facebook.