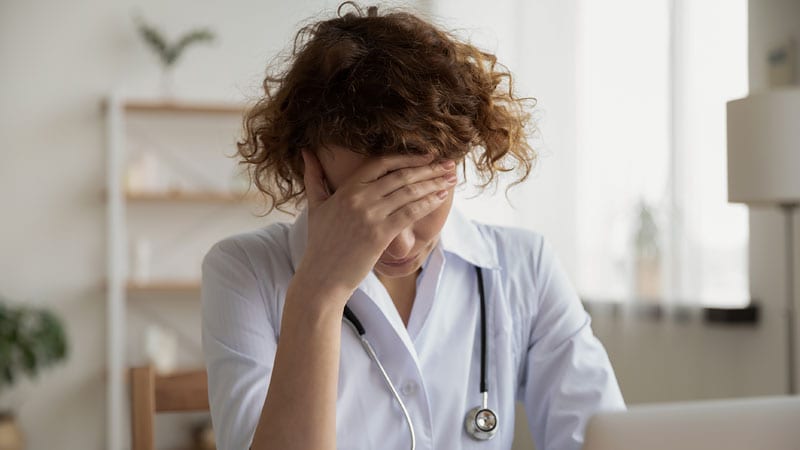 Approximately 53% of Canadian physicians are experiencing burnout, and 46% are thinking of cutting back their clinical workloads, according to the latest physician survey by the Canadian Medical Association (CMA). Katharine Smart, MD, president of the CMA, is "alarmed but not surprised" by these results. She sees "despair, exhaustion, [and] crushing workloads" in her physician colleagues across Canada.
As a pediatrician in Whitehorse, Yukon, and a mother of two, Smart has personally experienced "significant burnout multiple times." But she pushes back against talk about what she calls "the paradox of self-care."
"So much of what we're talking about is at the systems level," she said in an interview with Medscape Medical News. "Our healthcare system is underfunded, underresourced, and it's falling apart in many ways," said Smart. Physicians should not be made to feel that burnout is an individual problem, because it is directly related to work, she added.
Preliminary findings of the survey, conducted in fall 2021, show that 59% of the more than 4000 respondents reported worsening mental health since the onset of the pandemic. Respondents attribute this worsening to "increased workload and lack of work-life integration (57%) and rapidly changing policies/processes (55%)."
While Smart acknowledges that other professionals report similar struggles, among physicians, there are specific prepandemic causes of burnout that have intensified during the pandemic. "What we have is many barriers in our system that constantly get in the way of what patients need, but at the end of the day, you still have a human being in front of you who is suffering," she said. "We need more innovation of our models of care. We need health resource planning. We need to better use our data to make sure people have the information they need to do their jobs. We need to better fund and recruit and retain nurses so that our hospitals are staffed appropriately."
Appeal to the Government
Smart is calling on government decision-makers to join physicians in addressing what she calls a dysfunctional system. "We don't always see our governments owning the problem with us, and if the decision-maker, the person holding the purse strings, doesn't see the problem the way you do, then you're probably not going to come up with a solution," she said. "If we were hearing that and really seeing the dollar commitment, we'd say, 'Yeah, we have a challenge in front of us, but we're on the same team and we're advancing to the same solutions, and I feel hopeful.' But that's not what's happening."
The finding that nearly half of Canadian physicians are considering reducing their workload is particularly concerning, she said, given that probably more than 5 million Canadians have no family doctor, and the country is struggling with a growing pandemic-related surgical backlog. This is where physician self-care is important. "Recognizing none of us can change the system overnight, we do have to learn to survive if we're going to stay in it," said Smart. She noted that physician burnout is linked to clinical outcomes and safety in care. "It's not just about how we're feeling, it's also about the care we provide. So, it's actually a pressing issue for everyone."
But perhaps even more than among nonphysicians, physicians face obstacles in seeking mental health care. "For example, having to report your mental health on your license application and having that become a barrier to maintaining your license. Things like that need to go away," she said. "That means hospitals and administrators and governments need to make sure that those supports are there and that we destigmatize it so people can get the help they need." She added that kindness needs to be promoted in the medical culture. "Burnout can lead to negative behavior towards colleagues. We all need to get better at calling out that type of behavior and checking in with people who behave in that way to make sure they're OK."
Self-sacrifice and high expectations of others can be toxic element of medical culture that are passed from one generation of doctors to the next, said Smart. "You do have to be willing to challenge your own assumptions about what people should and shouldn't be doing and what makes a good doctor. And you have to sincerely reconsider some of your own beliefs and realize they're coming from a place of your own trauma in the system that you're perpetuating."
Peer Support Program
Weeks into the pandemic, Western University's Schulich School of Medicine and Dentistry, in London, Ontario, recognized what the CMA survey has revealed and initiated a peer support program to address physician burnout and flagging morale. The Peers for Peers Program, developed by Andrea Lum, MD, vice dean of faculty affairs, aims to address unreasonable professional expectations, lack of regulations regarding work hours, and moral injury, which are at the root of most physician burnout. "We are the light at the end of the tunnel," Lum told Medscape. She said that internal surveys suggest that about one third of the school's 900 faculty have accessed the program.
"We have trained our physician volunteers in peer support, which really involves empathetic listening," said Laura Foxcroft, MD, assistant dean of faculty well-being, who leads the program. "Well-being leads" are available in every clinical department. "It has changed our culture here at Schulich and has been positive for our physicians to benefit from that listening ear that understands what it was like to go through the pandemic, what it was like to go through the specific complications within their specialty."
Lum and Foxcroft acknowledge that systemic dysfunction remains at the root of most physicians' current distress, but the Peers for Peers Program does enable around 80% of physicians to manage the stress without accessing further resources. "This program does not discourage people that need psychiatric or formal help, we're actually encouraging and facilitating that if needed, but it's helping our faculty to feel less alone in that day-to-day moral injury, expectations, lack of standards that really only a peer can understand," said Foxcroft.
Kate Johnson is a Montreal-based freelance medical journalist who has been writing for more than 30 years about all areas of medicine.
For more news, follow Medscape on Facebook, Twitter, Instagram, and YouTube.