Even as a number of states see increases in new COVID-19 cases among all ages, the trend remains downward for children, albeit at a slower pace than in recent weeks, based on data from the American Academy of Pediatrics and the Children's Hospital Association.
New pediatric cases in the United States totaled 27,521 for the most recent week, March 25-31, down by 5.2% from the previous week. Earlier weekly declines, going backward through March and into late February, were 9.3%, 23%, 39.5%, and 46%, according to data collected by the AAP and CHA from state and territorial health agencies. The lowest weekly total recorded since the initial wave in 2020 was just under 8,500 during the week of June 18-24, 2021.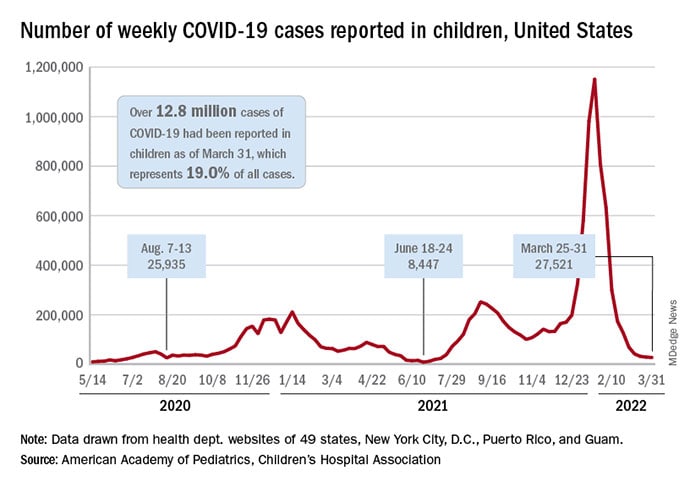 Reported COVID-19 cases in children now total over 12.8 million since the beginning of the pandemic in March 2020, and those infections represent 19.0% of all cases. That share of new cases has not increased in the last 7 weeks, the AAP and CHA noted in their weekly COVID report, suggesting that children have not been bearing a disproportionate share of the declining Omicron burden.
As for Omicron, the BA.2 subvariant now makes up about 55% of COVID-19 infections, the Centers for Disease Control and Prevention said in its COVID Data Tracker Weekly Review, and New York, Massachusetts, and New Jersey are among the states reporting BA.2-driven increases in new cases of as much as 30%, the New York Times said.
Rates of new cases for the latest week available (March 27 to April 2) and at their Omicron peaks in January were 11.3 per 100,000 and 1,011 per 100,000 (ages 0-4 years), 12.5 and 1,505 per 100,000 (5-11 years), 12.7 and 1,779 per 100,000 (12-15 years), and 13.1 and 1,982 per 100,000 (16-17 years), the CDC said on its COVID Data Tracker.
Hospitalization rates, however, were a bit of a mixed bag. The last 2 weeks (March 13-19 and March 20-26) of data available from the CDC's COVID-NET show that hospitalizations were up slightly in children aged 0-4 years (1.3 per 100,000 to 1.4 per 100,000), down for 5- to 11-year-olds (0.6 to 0.2), and steady for those aged 12-17 (0.4 to 0.4). COVID-NET collects data from nearly 100 counties in 10 states and from a separate four-state network.
Vaccinations got a small boost in the last week, the first one since early February. Initial doses and completions climbed slightly in the 12- to 17-year-olds, while just first doses were up a bit among the 5- to 11-year-olds during the week of March 24-30, compared with the previous week, although both groups are still well below the highest counts recorded so far in 2022, which are, in turn, far short of 2021's peaks, according to CDC data analyzed by the AAP.
This story originally appeared on MDedge.com, part of the Medscape Professional Network.