Editor's note: Find the latest COVID-19 news and guidance in Medscape's Coronavirus Resource Center.
Weekly COVID-19 cases in children passed 100,000 in the United States for the first time since late February as pediatric incidence rose for the 6th consecutive week, according to the American Academy of Pediatrics and the Children's Hospital Association.
New cases were up by 14.6% over the previous week to just over 107,000 reported during May 13-16, marking the sixth straight increase since April 1-7, when the count was almost 26,000. Over that period, weekly cases rose 313%, based on data in the latest weekly COVID report from the AAP and CHA.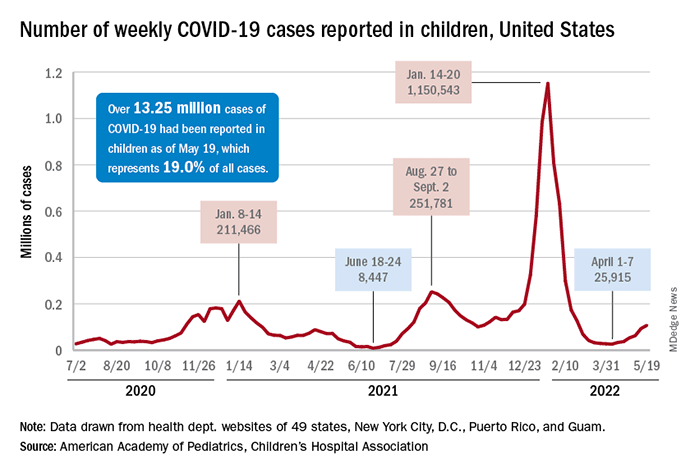 Rates reported by the Centers for Disease Control and Prevention show the same trend. Weekly cases per 100,000 population, which were down to 34.9 in children aged 0-4 years and 43.1 for those aged 5-11 on March 26, were up to 49.5 and 52.2, respectively, by April 16. The pace picked up right after that, and as of May 14, the rates of new cases were 125.4 per 100,000 in children aged 0-4 years and 143.1 in those aged 5-11, the CDC said.
Hospital admissions continue to rise as well. The rate of new admissions in children aged 0-17 was up to 0.25 per 100,000 population on May 18, nearly double the 0.13 per 100,000 recorded as late as April 13. The latest 7-day average count for new admissions, 163 per day from May 15-21, is down from the previous week's 175 per day, but the CDC also acknowledges potential reporting delays in the most recent 7-day period.
Both of those weekly averages, however, are far below the peak rate for the pandemic, 914 per day, which occurred Jan. 10-16, 2022, during the Omicron surge. Since the CDC began keeping count at the beginning of August 2020, more than 125,000 children aged 0-17 years have been admitted with confirmed COVID-19, which is about 2.7% of all admissions over that period, the CDC's data show.
Booster Gets the Green Light
The week brought some positive news on the prevention side, though, as the CDC officially approved a COVID vaccine booster dose for children aged 5-11 years.
Even that good news came with a caveat, however. The vote by the CDC's Advisory Committee on Immunization Practices was 11:1 in favor, with the negative vote cast by Helen Keipp Talbot, MD, of Vanderbilt University, Nashville, Tenn., who said that "boosters are great once we've gotten everyone their first round. That needs to be our priority in this."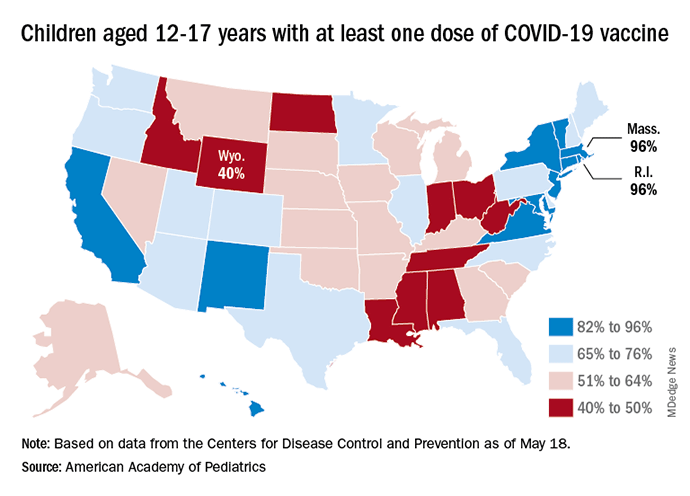 Nationally, in fact, just 35.7% of children aged 5-11 years have received at least one dose of the vaccine and only 29.0% are fully vaccinated. Those figures are nearly doubled among 12- to 17-year-olds: 69.3% have received at least one dose and 59.4% are fully vaccinated, the CDC said on its COVID Data Tracker.
Some states, meanwhile, are well below those national rates. In Wyoming, only 40% of children aged 12-17 have received an initial vaccine dose, and eight other states are below 50%. Among children aged 5-12, there are still five states below 20% in that measure, while the states on the other end of the spectrum – Vermont and Massachusetts – are above 60%, the AAP said in its separate vaccination report.
This article originally appeared on MDedge.com, part of the Medscape Professional Network.