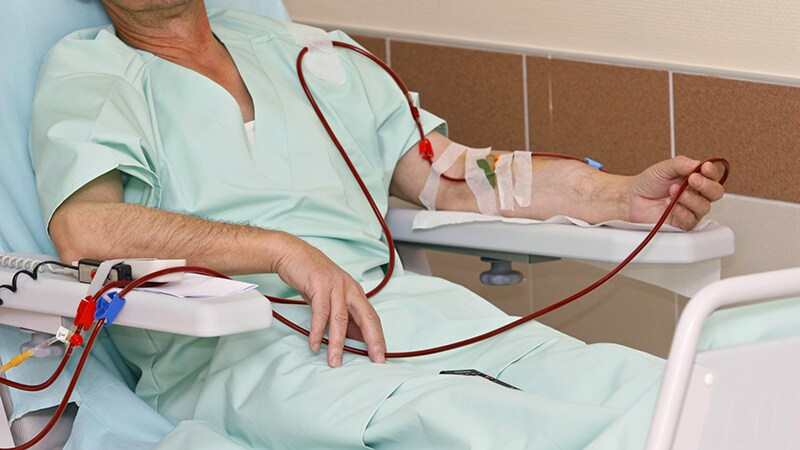 Patients hospitalized for acute kidney injury (AKI) are at high risk of dying in hospital or within a year, with little improvement in mortality risk over the past decade, a new retrospective cohort study from the national Veterans Health Administration shows.
"Our study indicates that AKI-associated mortality remains high, as greater than one in four patients died within 1 year. There has been no significant progress toward improving in-hospital or long-term AKI survivorship," said lead author Ryann Sohaney, DO, University of Michigan, Ann Arbor, in a press release from the American Society of Nephrology.
"Our findings point to an urgent need to continue identifying opportunities both to prevent AKI and to improve post-AKI outcomes," Sohaney and colleagues add in their article, published online February 7 in the Clinical Journal of the American Society of Nephrology.
"There needs to be a focus on interventions that can improve AKI outcomes," agree Kianoush Kashani, MD, and Andrew Rule, MD, both of the Mayo Clinic in Rochester, Minnesota, writing in an accompanying editorial.
This will first require identifying the root causes of any improvement in AKI mortality so that preventive measures can be targeted in a more focused way to improve patient outcomes.
Mortality Rate Increases in Line With AKI Severity
Researchers included over 2.6 million hospital admissions of more than 1.6 million patients within the Veteran Affairs health system over 9 years between October 2008 and September 2017 to assess temporal trends of mortality among patients who developed AKI.
The consensus criteria for AKI by the Kidney Disease Improving Global Outcomes (KDIGO) were used.
The overall incidence of AKI was about 20% of all included hospital admissions. In those with versus without an AKI episode, crude mortality was six times higher in-hospital (6% vs 1%) and two times higher at the 1-year follow-up (28% vs 14%).
"Among all hospitalizations with AKI, 82% were KDIGO stage 1, 3% were KDIGO stage 2, and 14% were KDIGO stage 3 (including dialysis-requiring AKI)," the authors explain.
Both in-hospital and 1-year mortality rates increased as AKI increased in severity. For example, among patients who required dialysis, 16% died in hospital and 41% died within 1 year of hospitalization. Mortality rates were lower among patients with KDIGO stage 1 AKI, 25% of whom died within 1 year of hospitalization.
Characteristics "strongly associated" with both in-hospital and 1-year mortality risk, as well as AKI stage, included malignancy, liver disease, sepsis, and need for mechanical ventilation.
Other studies, however, have reported large declines in in-hospital mortality rates among US patients with AKI, including an early analysis using the Nationwide Inpatient Sample, which reported a significant drop between 1988 and 2002 from 40% to 20% (P < .001).
However, these included "claims data," which "may inflate the apparent mortality reduction through increased recognition of mild AKI over time," Sohaney and coauthors observe. In fact, their study found a crude relative mortality reduction of 46% across 9 years when AKI was ascertained using diagnostic codes.
Still, "the long-term poor adverse health consequences associated with even mild AKI are highly significant, as one in four patients with stage 1 AKI [in our study] died within a year of AKI hospitalization," the authors reiterate.
And "the significant excess mortality seen between hospital discharge and 1 year also presents an important opportunity to optimize post-acute care," they stress.
In their editorial, Kashani and Rule, write: "A comprehensive assessment of mortality rates among those with subclinical AKI or individuals with AKD [acute kidney disease] without AKI is…needed."
This "could establish a more robust understanding of the deterministic factors for death after kidney injuries and identify more effective preventive measures," they conclude.
The study was funded by the Centers for Disease Control and Prevention. Sohaney and the editorialists have reported no relevant financial relationships.
Clin J Am Soc Nephrol. Published online February 7, 2022. Abstract

Follow Medscape on Facebook, Twitter, Instagram, and YouTube.