It is a story that has quickly gone viral around the world: A Mission Viejo, California-based dermatologist has been arrested for allegedly poisoning her husband.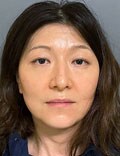 Yue Yu, MD, aged 45, was booked into the Orange County Jail on August 4, after Irvine Police had been called to her residence that day by her husband, Jack Chen, MD, 53, a radiologist. Chen provided the police with video evidence that he said showed Yu pouring a drain-opening chemical into his hot lemonade drink.
"The victim sustained significant internal injuries but is expected to recover," the Irvine police department said in a statement.
Yu was released after paying a $30,000 bond and has not been formally charged, according to the New York Post.
In a statement to the court on August 5, Chen said he and the couple's two children had long suffered verbal abuse from his wife and her mother, according to the Post. Multiple news organizations reported that Chen filed for divorce and also for a restraining order against Yu on that day.
After feeling ill for months — and being diagnosed with ulcers and esophageal inflammation — Chen reportedly set up video cameras in the couple's house. He said he caught Yu on camera pouring something into his drink on several occasions in July.
According to NBC News, Yu's attorney, David E. Wohl, said that Yu "vehemently and unequivocally denies ever attempting to poison her husband or anyone else."
Yu received her medical degree from Washington University School of Medicine in 2006 and has no disciplinary actions against her, according to the Medical Board of California. She was head of dermatology at Mission Heritage Medical Group, but her name and information have been scrubbed from that group's website. Mission Heritage is affiliated with Providence Mission Hospital. A spokesperson for the hospital told NBC News that it is cooperating with the police investigation and that no patients are in danger.
The dermatologist is due to report back to court in November, NBC News said.
Alicia Ault is a Lutherville, Maryland-based freelance journalist whose work has appeared in publications including JAMA and Smithsonian.com. You can find her on Twitter @aliciaault.
For more news, follow Medscape on Facebook, Twitter, Instagram, YouTube, and LinkedIn.