Endoscopic balloon dilation (EBD) is an effective treatment option for strictures of the small bowel in patients with Crohn's disease, based on a nationwide Danish cohort study.
Approximately three out of four patients who underwent an EBD were spared subsequent small bowel surgery. Similar outcomes were seen across primary and postsurgical strictures, reported lead author Mads Damsgaard Wewer, BSc, of the University of Copenhagen, and colleagues.
"Retrospective studies investigating EBD are available with variable follow-up periods; however, a nationwide study to demonstrate more precise durability of EBD in unselected patients is lacking," the investigators wrote in European Journal of Gastroenterology & Hepatology. Their aim was to understand the use of EBD and the need for redilation and surgery. This retrospective study used a cohort of adult patients with Crohn's disease who had strictures of the small bowel during a 19-year period.
The population comprised 9,737 patients with incident Crohn's disease, among whom 90 (1%) underwent EBD during a median 8.2-year follow-up period. Of these 90 patients, 49 had primary strictures, while the remaining 41 had postsurgical strictures.
In the primary stricture group, 59% of patients had one EBD procedure and did not require subsequent small bowel surgery, 14% of patients required redilation but no further surgery, and 27% of patients required small bowel surgery after dilation. In this same group, the 1-, 3-, and 5-year cumulative incidence rates of EBD failure were 19%, 21%, and 25%, respectively. Of note, just 8% of patients with primary stricture who were treated with EBD ultimately required enterotomy, compared with 16% of patients with primary stricture who underwent small bowel resection without first attempting EBD.
In the postsurgical stricture group, 49% of patients underwent one EBD procedure without need for another small bowel surgery, 27% needed redilation but avoided surgery, and 24% required surgery after dilation. One-, three-, and five-year cumulative incidence rates of EBD failure in this group trended slightly higher than the primary stricture group over time, at 19%, 25%, and 29%, respectively.
The researchers noted that 25% of patients required small bowel surgery after EBD, which falls below rates of 29% to 33% reported by recent studies. They explained that this edge may be "partly explained by the careful selection of patients (with few and short strictures) receiving EBD," as well as exclusion of patients with strictures outside the small intestine. They concluded that, "… small bowel-related EBD is an effective treatment option, and one that could be offered to more patients with Crohn's disease in the future."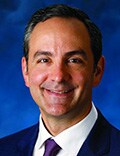 "This is an important study that really adds something to the literature," noted Joseph Carmichael, MD, chief medical officer and chief of colon and rectal surgery at the University of California, Irvine. "The cohort is a little unusual in this area in that it encompasses a whole country. Yet this is exactly what makes the data stand apart from previous studies, since the patient population was unselected. That's how you get a true incidence of the intervention."
Beyond the generally favorable outcomes associated with EBD, Carmichael highlighted similar rates of success across both primary and postsurgical strictures. "Some of the previous data suggest postsurgical strictures don't do as well with endoscopic dilation, and this [study] seems to go against that," he said. "Which really deserves a closer look."
Reflecting on the researchers' call for more frequent use of EBD in patients with Crohn's disease, Carmichael speculated that several factors may be limiting current utilization in Europe and the U.S. For one, there may not be enough interventional gastroenterologists. Also, the procedure "generally requires a high-volume provider who's got surgical backup because these [procedures] have a 2% to 4% incidence of technical failure – including perforation or bleeding. These risks may deter patients from undergoing the procedure.
"Patients with Crohn's disease can be pretty remarkable in their ability to endure obstruction," he added. "If someone's feeling their symptoms aren't altering their quality of life, they may choose not to proceed with it."
With all candidate patients, Carmichael recommended discussing the risks of EBD compared with the risks of declining the intervention, such as complete bowel obstruction, bowel perforation, or fistula. "That's a question that needs to be included with every conversation when we discuss procedures," he explained.
The researchers report that, among others, they have relationships with Janssen-Cilag, AbbVie A/S, and Celgene. Carmichael reports no relevant conflicts of interest.
This article originally appeared on MDedge.com, part of the Medscape Professional Network.