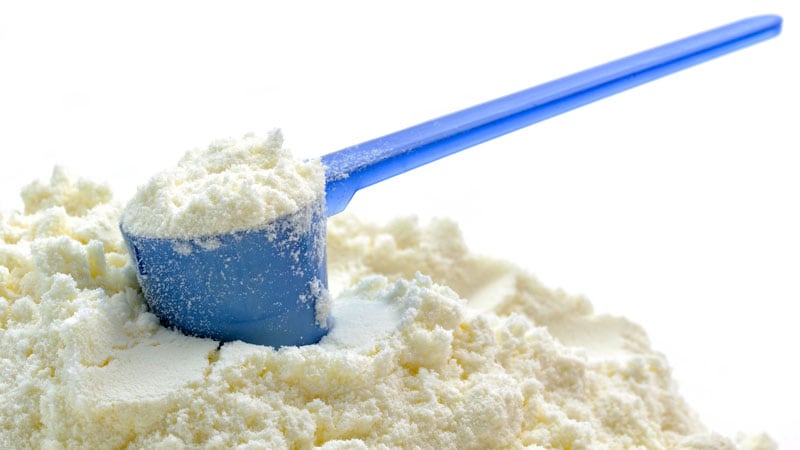 The FDA is easing rules to allow infant formula imports from the U.K., which would bring about 2 million cans to the U.S. in coming weeks.
Kendal Nutricare will be able to offer certain infant formula products under the Kendamil brand to ease the nationwide formula shortage.
"Importantly, we anticipate additional infant formula products may be safely and quickly imported in the U.S. in the near-term based on ongoing discussions with manufacturers and suppliers worldwide," Robert Califf, MD, the FDA commissioner, said in a statement.
Kendal Nutricare has more than 40,000 cans in stock for immediate dispatch, the FDA said, and the U.S. Department of Health and Human Services is talking to the company about the best ways to get the products to the U.S. as quickly as possible.
Kendamil has set up a website for consumers to receive updates and find products once they arrive in the U.S.
After an evaluation, the FDA said it had no safety or nutrition concerns about the products. The evaluation reviewed the company's microbiological testing, labeling, and information about facility production and inspection history.
Also on Tuesday, the FDA announced that Abbott Nutrition will release about 300,000 cans of its EleCare specialty amino acid-based formula to families that need urgent, life-sustaining supplies. The products had more tests for microbes before release.
Although some EleCare products were included in Abbott's infant formula recall earlier this year, the cans that will be released were in different lots, have never been released, and have been maintained in storage, the FDA said.
"These EleCare product lots were not part of the recall but have been on hold due to concerns that they were produced under insanitary conditions observed at Abbott Nutrition's Sturgis, Michigan, facility," the FDA wrote.
The FDA encourages parents and caregivers to talk with their health care providers to weigh the potential risk of bacterial infection with the critical need for the product, based on its special dietary formulation for infants with severe food allergies or gut disorders.
The FDA also said that Abbott confirmed the EleCare products will be the first formula produced at the Sturgis facility when it restarts production soon. Other specialty metabolic formulas will follow.
Abbott plans to restart production at the Sturgis facility on June 4, the company said in a statement, noting that the early batches of EleCare would be available to consumers around June 20.
The products being released now are EleCare (for infants under 1 year) and EleCare Jr. (for ages 1 and older). Those who want to request products should contact their health care providers or call Abbott directly at 800-881-0876.
Sources:
FDA: "FDA Flexibilities to Yield Millions of Cans of Additional Infant Formula in Coming Months to Increase Supply Available to U.S. Consumers."
Kendamil: "Coming soon" waitlist.
Abbott: "Abbott to release EleCare amino acid-based formulas to help meet critical patient need."