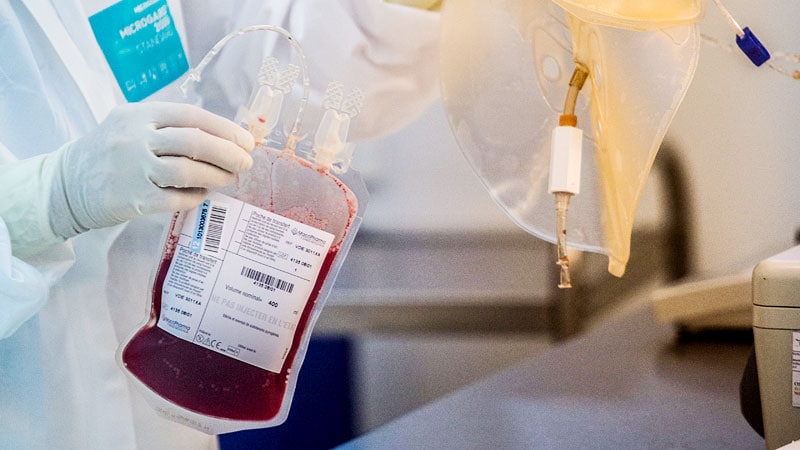 Non-European ancestry is a risk factor for receiving the "most complex" bone marrow transplantations, and this factor is related to socioeconomic status, according to a report presented at the American Society of Hematology annual meeting.
There is "an intersectionality between ancestry and socioeconomic status and an association with donor type, with the most vulnerable patients" – those of non-European ancestry with low socioeconomic status (SES), especially people of African ancestry – "receiving the most complex [i.e., human leukocyte antigen (HLA)–disparate] transplants," said lead investigator Warren Fingrut, MD, a research fellow in the Adult Bone Marrow Transplantation Service at Memorial Sloan Kettering Cancer Center, New York.
"Successful extension of transplant access to minority patients will be contingent on addressing [their] financial hardship," said Dr. Fingrut, who presented the findings at the meeting.
To better channel support services and ensure that resources are available, he also noted that centers will have to do a better job of identifying patients with financial struggles.
"Household income data is not collected at our center, and neither is it collected at most centers," hence assessments of SES are based on imperfect surrogates, such as neighborhood poverty by zip code. "Interventions to advance equity will require better SES classifications or detailed recording of household income," Dr. Fingrut said.
Overall, the study highlights "inequities in the delivery of stem cell transplants," pointing to opportunities "to improve access to this potentially curative treatment," said hematologist/oncologist Chancellor Donald, MD, of Tulane University, New Orleans, who moderated the study presentation.
Dr. Donald said that the new research shows "how interactions between racial backgrounds and socioeconomic status relate to the type of allogenic stem cell transplant patients receive." The team "identified that [people] of non-European ancestry and especially those of low SES, are more likely to receive the most specialized type of allogeneic stem cell transplantation, which notably require the highest level of care," Dr. Donald said.
The investigators reviewed 372 consecutive adults transplanted at MSKCC from March 2020 to February 2022, mostly for myeloid malignancies.
Thirty-one percent of patients had non-European ancestry, including 11% of African, 9% of Asian, and 8% of White Hispanic descent.
With no information about household income, the team used neighborhood poverty (which affected 5% of patients); Medicaid as the primary insurance (6% of patients), and financial support for living and medical expenses (19%) as surrogates of lower SES. Classification depended largely on what criteria were used, with only 20 patients meeting two criteria and only one patient meeting all three.
Overall, more than half (58%) of non-European ancestry patients received HLA-disparate grafts, compared with 24% of people with European ancestry, including 48% of White Hispanic patients, 58% of Asian patients, and 78% of patients of African decent.
Markers of lower SES were more common among non-European patients. For instance, among people of European ancestry, 4% were on Medicaid and 15% were on financial aid, versus 10% on Medicaid and 29% on financial support among people of other ancestries. Medicaid use (12.5%) and financial aid (42.5%) were highest among patients of African descent.
Among patients who received HLA-disparate grafts, patients of non-European descent were three times more likely to be on Medicaid (12% versus 4%) and more than twice as likely to be on financial support (33% versus 15%).
People of African ancestry who received HLA-disparate grafts had the highest proportions of Medicaid reliance (16%) and financial support (45%).
This article originally appeared on MDedge.com, part of the Medscape Professional Network.