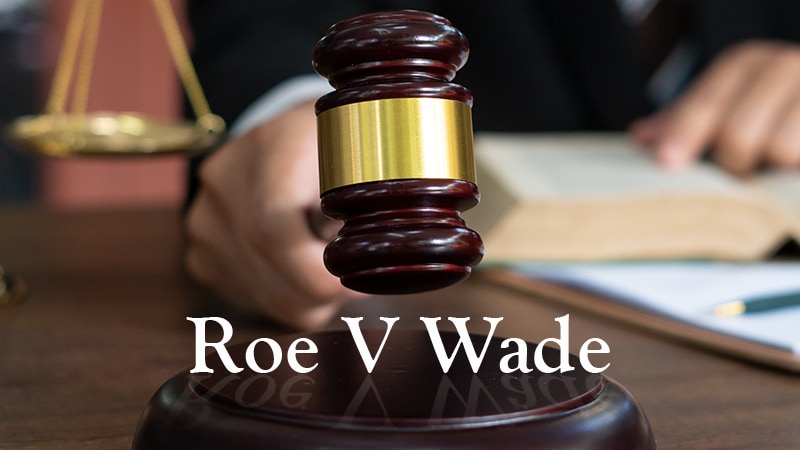 Editor's note: This story has been updated.
The US Supreme Court has voted to overturn the federal constitutional right to abortion, turning the issue over to individual states to decide.
About 25 million women of reproductive age will now live in states that ban or severely restrict abortion, According to some estimates, 26 states are "certain or likely" to ban abortion, according to the Guttmacher Institute, which supports abortion rights.
Thirteen states have so-called trigger laws that will ban abortion almost immediately, while nine other states are now likely to try to enforce near-total bans or severe restrictions that have been blocked by courts pending the outcome of the just-issued decision.
Hours after the ruling came down, at least four states – Kentucky, Louisiana, Missouri, and South Dakota – had already banned abortion. South Dakota, Kentucky, and Louisiana had trigger laws that took effect the moment Roe was overturned. In Missouri, Arkansas, and Oklahoma, state officials took action to activate their states' abortion ban.
Physicians and others who provide abortion services, or in some states, "aid or abet" an abortion, could be fined thousands of dollars or sent to prison.
The Justices voted 6-3 that the two cases that established a right to abortion—Roe v. Wade (1973) and Planned Parenthood v. Casey (1992)—were never correct, and that there has never been a guarantee of abortion under the Constitution.
"Roe was egregiously wrong from the start. Its reasoning was exceptionally weak, and the decision has had damaging consequences," wrote Justice Samuel Alito in the 116-page opinion issued by the majority. "And far from bringing about a national settlement of the abortion issue, Roe and Casey have enflamed debate and deepened division. It is time to heed the Constitution and return the issue of abortion to the people's elected representatives."
Justices Sonia Sotomayor, Elena Kagan, and Stephen Breyer issued a 65-page blistering dissent. The ruling means "that from the very moment of fertilization, a woman has no rights to speak of," they wrote. "A State can force her to bring a pregnancy to term, even at the steepest personal and familial costs."
The dissenters also said it appeared that the majority had abandoned stare decisis, the doctrine of respecting precedent. "Today, the proclivities of individuals rule. The Court departs from its obligation to faithfully and impartially apply the law," they wrote.
In the case, Dobbs v Jackson Women's Health of Mississippi, the state's sole abortion provider sued to block the state's 2018 law that banned abortion after 15 weeks. The state asked the Supreme Court to rule in its favor and to throw out the precedent-setting cases.
US Sen. Susan Collins, R-Maine, expressed disappointment with the ruling, and said it goes against what Gorsuch and Kavanaugh said before they were added to the court.
"This decision is inconsistent with what Justices Gorsuch and Kavanaugh said in their testimony and their meetings with me, where they both were insistent on the importance of supporting long-standing precedents," she said in a statement.
Collins' colleague, Sen. Joe Manchin, D-WV, said much the same.
"I trusted Justice Gorsuch and Justice Kavanaugh when they testified under oath that they also believed Roe v. Wade was settled legal precedent and I am alarmed they chose to reject the stability the ruling has provided for two generations of Americans," Manchin said in a statement.
President Joe Biden spoke to the nation on Friday and said "the health and life of women in this nation are now at risk." because of the Supreme Court's decision.
Biden also stressed his administration's commitment to upholding the rights to travel out of state for abortion and access to medications for contraception and treating miscarriage. "Politicians cannot interfere in the decisions that should be made between a woman and her doctor," Biden said.
The Supreme Court decision was not a surprise, as the justices indicated they were leaning that way during oral argument in December. The majority's thoughts were further revealed when a draft of the opinion was leaked to the news outlet Politico on May 2.
But the Dobbs decision may open the door to broader challenges to well-established rights. Justice Clarence Thomas, in a concurring opinion for the majority, essentially invited challenges to the right to contraception (Griswold v Connecticut, 1965), the right to engage in private consensual sexual acts (Lawrence v Texas, 2003), and same-sex marriage (Obergefell v Hodges, 2013), saying that they had been decided erroneously.
Groups that oppose abortion rights are preparing for the fight to continue – and to expand to the states.
"An entirely new pro-life movement begins today," Marjorie Dannenfelser, president of Susan B. Anthony Pro-Life America, said in a statement. "We are ready to go on offense for life in every single one of those legislative bodies, in each statehouse and the White House."
Ahead of the ruling, 25 medical professional societies — representing Ob/Gyns, family medicine doctors, fertility specialists, geneticists, hospitalists, internists, pediatricians, psychiatrists, nurses, nurse practitioners, and midwives — had urged the court to throw out the Mississippi law. And more than 2500 medical professionals signed a petition in June urging the court to uphold the right to abortion.
"This is a great day for preborn children and their mothers," said Carol Tobias, president of National Right to Life in a statement. "The Court has correctly decided that a right to abortion is not in the Constitution, thereby allowing the people, through their elected representatives, to have a voice in this very important decision."
The number of abortions has recently increased from what had been a long decline. The Guttmacher Institute estimates that there were 930,160 abortion procedures in 2020 (compared to 3.6 million births), an 8% increase from 2017. The number does not include self-managed abortions. The organization said the increase was potentially due to expanded Medicaid coverage and reduced access to contraception due to Trump administration policies.
Trigger Laws and Threats to Clinicians
When trigger laws and new restrictions go into effect, women in the South, Midwest, and Inter-Mountain West will likely have to drive hundreds of miles for an abortion, according to Guttmacher. Women in Louisiana, for instance, would have to drive 660 miles to get to the nearest provider in Illinois.
University of Utah researchers estimate that almost half of women will see a big increase in the distance to abortion care, from a median distance of 39 miles to 113 miles. State bans will disproportionately impact women of color, those living in poverty, and people with less education, they said.
The Centers for Disease Control and Prevention has reported that Black women are three times more likely to die from a pregnancy-related cause than White women.
Doctors and other abortion providers could face serious penalties. The maximum penalty in Texas is life in prison, and the sentence could be 10 to 15 years in 11 other states, according to an article in the medical journal JAMA by attorneys Rebecca B. Reingold and Lawrence O. Gostin.
"Threats of prosecution undermine clinicians' ability to provide safe, evidence-based care and to counsel patients honestly, impeding the patient-physician relationship," they write. "Given harsh penalties, physicians may cease treating pregnancy loss, with no clear line between treating miscarriages and abortions."
The US is already at a "point of crisis around medical training and education for abortion care," said Jamila Perritt, MD, president and CEO of Physicians for Reproductive Health. "This will certainly make it worse."
Perritt said that residency programs in states that are immediately banning or will soon prohibit abortion are scrambling to figure out how they will train ob/gyn residents not just in how to provide and manage induced abortions, but also in how to manage spontaneous abortion, miscarriage, and pregnancy loss for other reasons, noting that those issues cannot be separated.
Some trainees will end up traveling hundreds of miles to fulfil residency requirements, she said.
In preparing for these attacks on patients and physicians, New York Gov. Kathy Hochul (D) on June 13 signed a bill that immediately protects anyone who has an abortion and medical professionals in the state who provide them from legal retaliation by states that restrict or prohibit abortion.
Even while Roe was still the law, Mississippi had banned most abortions after 20 weeks, and 16 states prohibited abortion after 22 weeks. A Texas ban on abortion after 6 weeks — which also allows private citizens to sue abortion providers — was allowed to stay in place while it was being challenged.
On May 26, Oklahoma Gov. Kevin Stitt (R) signed a ban on abortion from the moment of conception. Just as in Texas, the Oklahoma law allows what critics have called "bounty hunting" of abortion providers.
Four states have a constitutional amendment declaring that the state constitution does not secure or protect the right to abortion or allow use of public funds for abortion: Alabama, Louisiana, Tennessee, and West Virginia.
In June, Louisiana enacted a ban on most abortions, with no exceptions for rape or incest, and that imposes jail time and monetary penalties for providers. In addition, anyone who mails abortion pills to a Louisiana resident can be prosecuted.
Some States Protecting Rights
At least 16 states have proactively protected a right to an abortion, according to Guttmacher, while The New York Times reports that 20 states and Washington, DC, have laws that protect abortion: Alaska, Colorado, Illinois, Maine, Massachusetts, Minnesota, Nevada, New Hampshire, New Mexico, Rhode Island, California, Connecticut, Delaware, Hawaii, Maryland, New Jersey, New York, Oregon, Vermont, and Washington.
Some of these states are gearing up for a potential influx of patients. Washington Gov. Jay Inslee (D) signed a law that authorizes physician assistants, advanced registered nurse practitioners, and other providers acting within their scope of practice to perform abortions. And the Maryland legislature overrode a veto by Gov. Larry Hogan (R) of a law that expands who can perform abortions.
Wisconsin Gov. Tony Evers (D) in early June called a special legislative session to repeal the state's 173-year-old dormant ban on abortion. But the majority Republican legislature vowed to take no action.
B. Jessie Hill, associate dean for academic affairs and a professor at the Case Western Reserve University School of Law in Cleveland, Ohio, said she expects anti-abortion groups to challenge these protective laws "by saying that fetuses are persons under the Constitution with a right to life and therefore that the state has to protect them."
But, she said, "There's going to be big, big challenges with those lawsuits," adding that they will not be "winners off the bat."
Medication Abortions, Travel Next Battle
Some states are also attempting to outlaw or severely restrict the use of RU-486, the abortion pill. A Tennessee law that goes into effect in 2023 would ban delivery of pills by mail and require a patient to have two doctor's visits — one consultation and one to pick up the pills.
Mississippi has also enacted restrictions including the requirement that women meet with a doctor first — and is being sued by pill maker GenBioPro.
Guttmacher estimates that medication abortion accounted for 39% of all abortions in the United States in 2017 and 60% of all abortions that occurred before 10 weeks' gestation.
Some states have floated the idea of prohibiting anyone from traveling to another state for an abortion.
George Mason University law professor Ilya Somin has written that such a law would likely violate the Dormant Commerce Clause, "which forbids state regulations that specifically restrict interstate commerce or discriminate against it."
He also wrote that states lack the authority to regulate activity that takes place beyond their borders and that such bans "are open to challenge because they violate the constitutional right to travel."
Hill also said a travel ban would be problematic, noting that it might be difficult to prosecute someone for "something you did completely in another state."
Reporter Leigha Tierney contributed to this report.
Sources
The New York Times: "How State Abortion Laws Could Change if Roe Is Overturned."
Guttmacher Institute: "26 States Are Certain or Likely to Ban Abortion Without Roe: Here's Which Ones and Why," "If Roe v. Wade Falls: Travel Distance for People Seeking Abortion," "State Abortion Policy Landscape: From Hostile to Supportive."
Committee to Protect Health Care: "Medical Professionals Urge Supreme Court to Uphold Roe v. Wade, Protect Abortion Access."
Dobbs v. Jackson Women's Health Organization.
Utah Women's Health Review: "Disparities in Distance to Abortion Care Under Reversal of Roe v. Wade."
JAMA: "The Leaked Supreme Court Ruling Opinion."
Reuters: "The next U.S. abortion battle is over pills, and it's already begun."
Reason: "Can States Ban Residents From Getting Abortions in Other States, if Roe v. Wade is Overturned?"
Alicia Ault is a Lutherville, Maryland-based freelance journalist whose work has appeared in publications including JAMA and Smithsonian.com. You can find her on Twitter @aliciaault.
For more news, follow Medscape on Facebook, Twitter, Instagram, and YouTube.