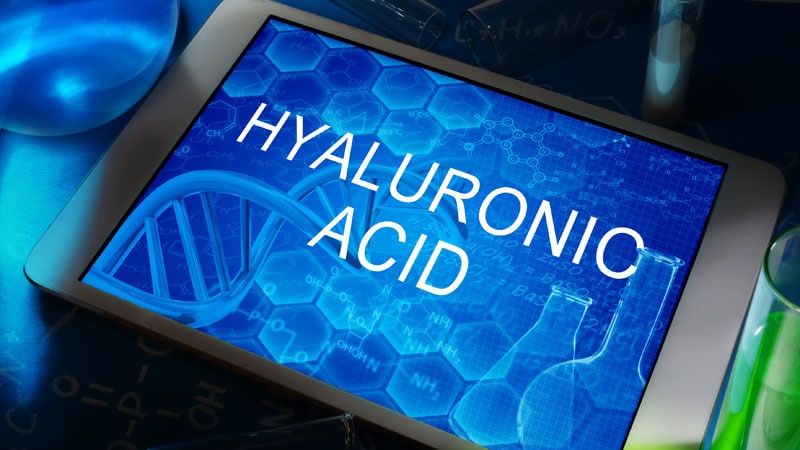 After several promising early phase studies, an injectable hyaluronic gel has been associated with sustained improvements in the appearance of the jaw in patients with poor jawline definition, according to data from what study authors characterized as a "pivotal" randomized multicenter trial. The results were presented during a late-breaking research session at the American Academy of Dermatology 2022 annual meeting in Boston, Massachusetts.
The primary outcome, assessed at 6 months, was at least a 1-point improvement in a photonumeric scale used to grade jawline sagging, reported Jeremy Green, MD, Skin Associates of South Florida, Coral Gables.
When those randomized to the hyaluronic filler gel VYC-25L (Vycross, Juvéderm) were compared with untreated controls, 68.5% versus 38.4% met the criterion for benefit at 6 months. Importantly, the effect in treated patients was sustained when reevaluated at 12 months. Green reported that the response is generally sustained at the maximum follow-up, now out to 17 months.
Most Enrolled Patients Are Severely Affected
In this study, 208 patients with severe (74%) or moderate loss of jawline definition were randomized in a 3:1 ratio to receive the filler or serve as controls. The initially untreated controls received the gel after the primary outcome analysis at 6 months.
The hyaluronic gel was injected at five sites along the jawline. The mean age of participants was 58 years. The majority were women, and most were White.
Dermatologists blinded to treatment compared photos at 6 months relative to those taken at baseline using the photonumeric grading system of 1 to 5.
Change in patient satisfaction at 6 months and again at 12 months relative to baseline was also evaluated.
From baseline, when 28.9% of participants reported satisfaction on the Global Aesthetic Improvement Scale (GAIS), rates rose to 89.0% at month 6. There was a decline at month 12, but 79.9% remained satisfied after this period of follow-up.
Most patients experienced injection site reactions that were mainly mild to moderate and all resolved within several days of treatment. Pain with mastication was initially reported by 1.9%, but again this complaint was also mild and transient. All complaints had largely resolved by day 3.
The results are consistent with several previous clinical studies of VYC-25L for the same indication. In a similarly designed trial conducted in Europe that also used a 3:1 randomization scheme, the primary outcome assessed at 3 months was change in facial angle. Relative to controls, the angle improved by 2.51º (P < .0001).
Patient Satisfaction Supports Filler Benefit
In the similar European trial, the clinical significance of the objective primary outcome also was supported by patient satisfaction assessed with several instruments, including the GAIS. Some degree of swelling or tenderness was experienced by almost all patients after injection, but none were serious, and all resolved.
In another trial, 202 patients with chin retrusion were randomized in a 3:1 ratio to VYC-25L or a control group. In that study, the primary outcome was at least a 1-point improvement in the Allergan Chin Retrusion Scale at 6 months. This advantage for treatment (56.3% vs 27.5%) was again supported by several instruments for evaluating patient satisfaction, including GAIS.
As in the other studies, most patients had injection site reactions. Although all resolved within days of treatment, one patient left the study after experiencing cellulitis and injection-site inflammation.
Dissatisfaction with jawline definition is a relatively common complaint in Green's experience, who said that there is a need for more effective and well-tolerated treatments. Given the efficacy, tolerability, and safety of VYC-25L in this controlled study, Green suggested this product has potential utility.
In the field of cosmetic dermatology, there appears to be incremental progress in fillers with favorable clinical characteristics, according to Sandy U. Tsao, MD, a dermatologic surgeon at Massachusetts General Hospital, Boston.
"We are seeing filler lasting longer and longer," she said, commenting specifically about the results presented by Green. She called sustained aesthetic improvement at 12 months for the filler in this study "really exciting."
Green has reported financial relationships with Allergan, Appiell, Candesant Biomedical, Croma-Pharma GmbH Austria, Crown Laboratories, Cutera, Endo International, Endo Pharmaceuticals, Galderma Laboratories, Galderma USA, L'Oréal Research and Innovation, Merz Aesthetics, NC8.CO, Revance Therapeutics, Silk Medical Aesthetics, and Soliton. Tsao has reported financial relationships with Epiphany Dermatology, Lazarus AI, and UpToDate.
American Academy of Dermatology 2022. Presented March 26, 2022.
Follow Medscape on Facebook, Twitter, Instagram, and YouTube.