The drug-coated balloon (DCB) for peripheral interventions had its share of troubles in recent years before making a comeback, with the field of available devices perhaps even poised for expansion.
In a randomized trial, an investigational paclitaxel-coated DCB with both a quirky design and confectionery name achieved achieved better patency outcomes in femoropopliteal lesions, with comparable safety, than another such device, which, more than 8 years ago, became the first of several to gain approval in the United States.
The Chocolate Touch DCB (TriReme Medical) emerged as decisively noninferior to the familiar Lutonix DCB (Lutonix) for both efficacy and safety at 12 months. By the trial's design, it was then eligible for sequential superiority testing for efficacy and edged past Lutonix.
The international Chocolate Touch Study, which compared the two devices in 313 patients with symptomatic peripheral artery disease (PAD), was presented April 4 at the American College of Cardiology (ACC) 2022 Scientific Session, held virtually and in person in Washington, DC, by coprincipal Investigator Mehdi H. Shishehbor, DO, MPH, PhD, Case Western Reserve School of Medicine, Cleveland. He is also lead author on the study's same-day publication in Circulation.
The Chocolate Touch device was designed to address some key DCB limitations in the periphery, such as potential for causing intimal dissection requiring bailout stenting, Shishehbor observed during his presentation. DCBs are also "associated with minimal acute luminal gain because of undersizing of the drug-coated balloon to reduce the risk of dissection," he said.
The Chocolate Touch balloon catheter's characteristic design features a nitinol outer cage that restricts the inflating balloon, which then bulges through the cage openings to create drug-coated "pillows" separated by grooves, Shishehbor described for the audience.
The bulges, he said, broaden the surface area of the balloon making contact with the vessel wall by 20%, compared with other DCBs, in theory boosting the delivered dose of paclitaxel.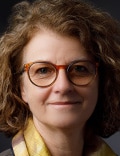 Animal studies, at least, seem to confirm that potential advantage for the Chocolate Touch, said Alexandra J. Lansky, MD, Yale School of Medicine and Yale-New Haven Hospital, New Haven, Connecticut, during a press conference on the Chocolate Touch Study.
"What we're seeing in the first 15 days is higher levels of drug in the vessel wall, compared to the Lutonix balloon," said Lansky, who is on the trial's data and safety monitoring board and clinical events committee.
Also at the press conference, Roxana Mehran, MD, not connected with trial, said it "shows superiority of this particular balloon" and agreed that its unique design features may actually have been responsible for the improved efficacy.
"Perhaps it's going to be a go-to drug-coated balloon for peripheral vascular interventions," said Mehran, from Icahn School of Medicine at Mount Sinai, New York City. It could be "a fantastic addition to the armamentarium for treating patients with peripheral vascular disease and allow the interventionalist to have another tool with very good safety and efficacy endpoints."
The trial, conducted at 34 centers in the United States, Europe, and New Zealand, randomly assigned patients with claudication or ischemic lower-extremity pain at rest and superficial femoral or popliteal artery stenoses of at least 70% severity to DCB intervention with the Chocolate Touch or Lutonix. They were 57.5% male and predominantly White; the mean age was about 69 years.
The 152 patients treated with Chocolate Touch and 161 treated with Lutonix were similar with respect to features that can influence procedural success, such as treated lesion length and prevalence of total occlusions and moderate to severe lesion calcification.
The primary efficacy endpoint of patency at 12 months was defined as peak systolic velocity ratio of less than 2.4 by duplex ultrasound without clinically driven target-lesion revascularization or bailout stenting.
With 1-year follow-up available for 94% of the patients, the efficacy endpoint was met by 78.8% in the Chocolate Touch group and 67.7% in the Lutonix group, with Chocolate Touch meeting the prespecified noninferiority criteria at P < .001 and criteria for sequential superiority at P = .04. There were no intimal dissections requiring bailout stenting.
The primary safety endpoint was defined as freedom from major adverse events, which consisted of target limb-related death, major amputation, or reintervention. That was met by 88.9% of patients treated with Chocolate Touch and 84.6% of those treated with Lutonix (noninferiority P < .0001 and sequential superiority P = .276).
Given that the Chocolate Touch DCB was designed in part to lower the risk for intimal dissection, "I found it interesting that there were no dissections in both the treatment and the comparator arms," said Geoffrey D. Barnes, MD, University of Michigan, Ann Arbor, from the panel after the presentation. He asked what could explain that finding.
The trial design was likely responsible, Shishehbor replied. In general, "the DCB trials allow angioplasty and predilatation before randomization. [Then] if there is a flow-limiting dissection, those patients are excluded from randomization."
If one goal of the trial was to show a possible difference in dissection rates, "I think we kind of shot ourselves in the foot, because we followed the same design," he acknowledged. "A number of patients were excluded because they did have flow-limiting dissection during the predilatation."
The study was funded by TriReme Medical. Shishehbor discloses serving on advisory boards for Boston Scientific, Philips, Terumo, Abbott Vascular, ANT, and Inquis Medical; being an officer, director, trustee, or other fiduciary for NanoTherapies; and receiving research grants from TriReme Medical. Lansky had no disclosures. Mehran discloses receiving consultant fees or honoraria from the Cine‐Med Research Institute; fully divested equity interest in Boston Scientific; ownership interest, a partnership, or other principal role at ControlRad; receiving research grants from Abbott Laboratories, Abiomed, Alleviant Medical, AM‐Pharma, Arena, AstraZeneca Pharmaceuticals, Bayer Healthcare Pharmaceuticals, Biosensors, Biotronik, Boston Scientific, Bristol‐Myers Squibb, Cardiawave, CellAegis, Celonova Biosciences, CERC, Chiesi, Concept Medical, CSL Behring, DSI, Element Science, Humacyte, Idorsia Pharmaceuticals, Insel Gruppe AG, Janssen, Magenta, Medtronic, Novartis, OrbusNeich, Philips, VivaSure, and Zoll; and holding stock in Applied Therapeutics, Elixir Medical, and STEL.
American College of Cardiology (ACC) 2022 Scientific Session. Session 410-16. Presented April 4, 2022.
Circulation. Published online April 4, 2022. Abstract
Follow Steve Stiles on Twitter: @SteveStiles2. For more from theheart.org | Medscape Cardiology, follow us on Twitter and Facebook.