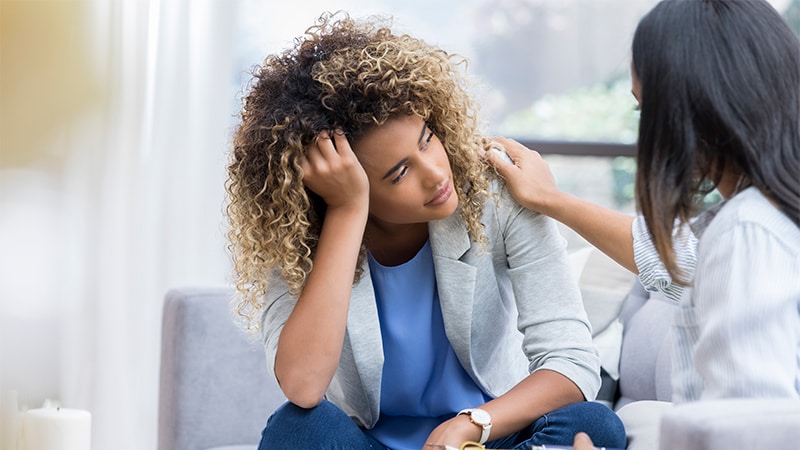 The United States continues to face a mental health crisis.
Patients with cancer may be at particular risk. Research shows that nearly 40% of patients with cancer have clinically significant psychiatric comorbidities, and 50% have reported significant distress.
However, there are not enough mental health professionals to meet the need. More than half of US counties lack a psychiatrist, and 15% of cancer centers don't offer mental health services.
That's where digital therapeutic apps may fill a gap.
Over the past few years, dozens of mental health apps — some requiring a doctor's prescription — have become available.
Blue Note Therapeutics, for instance, has developed a suite of free apps specifically for people with cancer.
Attune, the company's leading app, is the first and only prescription digital therapy app designed to help patients with cancer manage symptoms of anxiety and depression.
Attune provides 10 self-guided sessions that are grounded in evidence-based cognitive-behavioral stress management techniques and that offer strategies for patients to become more aware of what they can and cannot control in their lives. The app also provides exercises to cope with anxiety, depression, and anger.
During a session, patients can record stress ratings, monitor sleep, and engage in relaxation exercises. The goal is to provide patients the mental health support they may need at any moment.
Blue Note is currently conducting a clinical trial to explore how effectively Attune and another of its therapeutic digital software devices, Cerena, improves anxiety for patients with cancer. The study, which will be virtual, will enroll 352 patients with stage I–III cancer who are experiencing elevated symptoms of anxiety.
The demand for this type of app appears to be significant. "In just over 5 months, over 18,000 patients expressed interest in participating in the clinical trial," said Sean Zion, PhD, senior manager of Behavioral Science Research at Blue Note.
Sivan Rotenberg, PhD, a clinical health psychologist at Dartmouth Health, sees the value in prescribing a mental health app for patients with cancer who may have difficulty accessing in-person care. In addition, digital therapeutic apps can take some of the workload off clinicians.
"I have a number of patients in oncology who use digital therapeutics and are really finding a lot of benefit from it," said Rotenberg.
Some of her patients use these therapeutic apps while in the infusion suite. The apps guide them through meditation or breathing exercise to help them relax during treatment, she said.
"It's way more impactful than me running around the infusion suite trying to do it," she said.
Another benefit: It can reach patients in the moment they need help.
"I know myself and other therapists, we were at one point recording ourselves and send[ing] to patients, or I'd find recordings on YouTube," Rotenberg said. "Putting it all together in an app is a way of making it easier for us, which I really appreciate."
For more news, follow Medscape on Facebook, Twitter, Instagram, and YouTube.