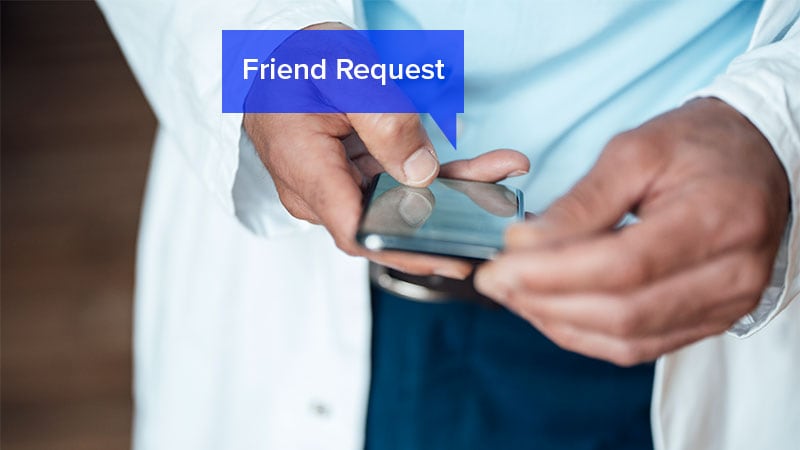 The internet and social media have cracked open healthcare in ways we could never have imagined even a decade ago.
But despite many of your patients asking to friend you on social media these days, physicians still have to protect their privacy and professionalism when it comes to online behavior. In Medscape's Physician Lifestyle & Happiness Report 2023: Contentment Amid Stress, 61% of physicians indicated that they spend 10 hours a week on their devices, and 27% spend 11–20 hours weekly on theirs.
A policy paper from the American College of Physicians and the Federation of State Medical Boards, "Online Medical Professionalism: Patient and Public Relationships," recommends that physicians keep their professional and personal personas separate online and not "friend" or contact patients through personal social media.
The organizations also advise against physicians using text messaging for medical interactions except with extreme caution and with the consent of the patient.
"There is so much unpredictability about where conversations on social may end up that from a risk perspective, it's probably best to avoid it for professional medical conversations," says David L. Feldman, MD, MBA, chief medical officer at The Doctors Company and TDC Group.
"The only exception might be a professionally oriented platform like LinkedIn. Even here, I would limit connections to colleagues, not patients," he tells Medscape.
Keep Medical Correspondence Off Social Media
While physician practices always look for easier and more effective ways to communicate with patients, posting to your patients' Facebook or Instagram accounts shouldn't be one of them. Although some physicians enjoy emailing patients as a form of follow-up communication, sharing other details seen on social media, such as home life or vacation snapshots, is typically verboten.
"I would not join patients' personal accounts. However, if a patient has a business account and owns a spa, for instance, I may join that media account and support their business," says Dana Spearin, OD, who practices in Washington.
But social media platforms weren't designed for sharing sensitive medical details, not to mention doing so can complicate the doctor-patient relationship. Organizations such as the American Academy of Family Physicians and the American College of Physicians recognize that having a public Facebook page or Twitter presence for your practice and sharing educational articles and information with a patient audience is acceptable, but sharing your personal Facebook page is frowned upon.
Social media platforms aren't usually digitally encrypted, which could leave the information that is shared vulnerable to hacks or shareable to third parties. You could also unknowingly violate the Health Insurance Portability and Accountability Act (HIPAA).
"I have built professional pages to target patients, specifically, patients with rheumatologic conditions," says Brittany Panico, DO, chief of rheumatology at Summit Rheumatology in Gilbert, Arizona, who is building a social media channel on Facebook.
"I have a disclaimer that I do not provide direct medical advice to patients over social media and remind patients that communication over messaging or as comments is not a HIPAA-approved method of communication for patient care needs."
What Happens When Social Media Lines Get Blurry?
Panico says she does get frequent treatment-related messages on social media from patients and always redirects them to her office or has staff call them during business hours. Another way that Panico doesn't cross the blurry internet lines with patients is that she responds only during office hours.
"I find that the boundaries of social media are not as clear for patients, as it may seem that physicians are just like anyone else on social media," she says. Plus, patients want to connect with their doctors in whatever way seems convenient or available to them 24/7. But physicians should stick to communicating by phone or via a patient portal set up for such sensitive communications.
Panico also only follows patients back directly if they are using a business profile to follow her business profile. "I strictly follow business pages on Instagram and do not belong to any groups from my professional page on Facebook.
"As a physician, we are a sort of public figure, and there are risks to having patients be able to identify personal information about you for safety reasons…."
Alopi Patel, MD, an anesthesiologist, interventional pain physician, and assistant professor at Mount Sinai Health System in New York City, agrees that a separate professional page can be a powerful educational tool. "However, it is necessary to set boundaries that social media is not a way of receiving free medical care between appointments."
In addition, patients may abuse the privilege of emailing, texting, or messaging their physician by asking for medical advice or discussing things best left to an office visit. Besides, appearing too personal or casual on social can reduce your credibility as a physician.
Patel says, "My general rule of thumb is to direct patients to a medical professional or the office. I have a disclaimer on my page that posted content is not medical advice, and patients should be evaluated by a physician."
What About Colleagues, Administrators, and Staff?
Since most of the time, colleagues are your friends and acquaintances, it's usually okay go join their accounts. It's a way to connect with them peripherally and to stay in touch with what they're doing professionally and personally. "However, if you aren't 'friends' in real life, then I would be hesitant to join a colleague's account, as you might not like what you see, which could lead to other issues down the road," says Spearin.
Panico occasionally follows colleagues on a case-by-case basis. "I do not follow administrative staff, office managers, or a direct supervisor from my personal page in order to establish boundaries between professional and personal life," she says.
She notes that overall, she's able to expand her reach to more people over social media than she otherwise would have in ways that promote advocacy and education for shared decision-making and nonmedical subjects, such as diet, exercise, and filtering information.
Patel tells Medscape, "Social media is a great tool for physicians to brand themselves and to build a practice. However, it is important always to be intentional with engaging on social media, whether using social media for professional or personal purposes. The internet is forever."
Jennifer Nelson is Features Editor, Reports at Medscape. Her work has also appeared at WebMD, Medical Economics, MedPage Today, as well as The Washington Post, AARP, The Oprah Magazine, Women's Health, and others.
For more news, follow Medscape on Facebook, Twitter, Instagram, and YouTube.