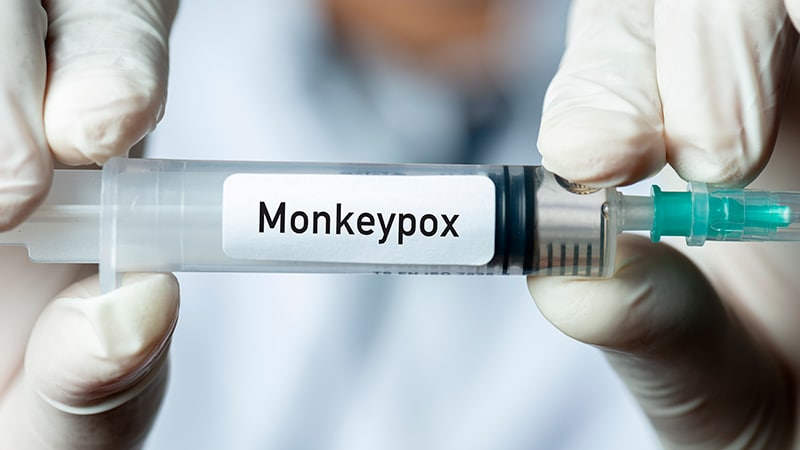 The U.S. has begun releasing a monkeypox vaccine from the Strategic National Stockpile to protect high-risk people.
The two-dose vaccine is approved to prevent smallpox and monkeypox.
"I can report that there has been a request for release of the Jynneos vaccine from the National Stockpile for some of the high-risk contacts of some of the early patients, so that is actively happening right now," Jennifer McQuiston, deputy director of the Division of High Consequence Pathogens and Pathology at the CDC's Emerging and Zoonotic Infectious Diseases Center, said during a news briefing.
Approved in the U.S. in 2019, the Jynneos vaccine is meant for use in high-risk adults, according to Reuters. McQuiston said the U.S. has a "good stock" of doses because it has prepared for the possibility of needing the vaccine for smallpox.
"Right now, we have over 1,000 doses of that available," McQuiston said. "We expect that level to ramp up very quickly in the coming weeks as the company provides more doses to us."
ACAM2000 is another smallpox vaccine licensed in the U.S. It could be used to prevent monkeypox as well, and the U.S. has more than 100 million doses.
"ACAM2000 is an older-generation smallpox vaccine that has some potential significant side effects with it," McQuiston said. "So, a decision to use that widely would have to have some serious discussion behind it."
First, federal health officials plan to use a few vaccines among close contacts of the current patients to prevent the virus from spreading, according to CNN.
"We are hoping to maximize vaccine distribution to those that we know would benefit from it," McQuiston said. "Those are people who've had contact with known monkeypox patients, health care workers — very close personal contact — and those in particular who might be at high risk for severe disease."
By the CDC's count, the first confirmed monkeypox case in the U.S. is a man from Massachusetts who recently traveled to Canada.
At least six suspected cases span across the country, according to ABC News, with one in New York, two in Florida, two in Utah and one in Washington. They tested positive for orthopoxvirus, the family of viruses that includes monkeypox.
As of Tuesday afternoon, there was also one suspected case of monkeypox under investigation in Sacramento County, CA, local news station KTXL reported. The suspected case was identified in a person who had recently traveled to Europe.
Given the current outbreak, health care providers should assume that orthopox cases are monkeypox, McQuiston said. The CDC expects to receive samples from the suspected cases and test them this week.
"It is likely that there are going to be additional cases reported in the United States," she said.
On Monday, Seattle health officials announced that a "presumptive" case is being investigated in an adult male who traveled internationally during the past month to a country that had reported monkeypox cases, according to The Associated Press.
The initial testing was completed Monday at a state laboratory, the AP reported. Federal health officials will confirm the case.
The man wasn't hospitalized and is isolating at home, Seattle health officials said, noting that they don't believe there is a high risk to the public.
Also on Monday, the CDC issued a travel alert to "practice enhanced precautions" as monkeypox spreads in multiple countries. Cases have now been confirmed in more than 16 countries.
"Risk to the general public is low, but you should seek medical care immediately if you develop new, unexplained skin rash (lesions on any part of the body), with or without fever and chills," the CDC wrote.
The World Health Organization announced Tuesday that there have been 131 confirmed cases and 106 additional suspected cases outside of Africa since the first case was reported on May 7, according to Reuters.
Although the multi-country outbreak is unusual, it remains "containable" and limited, WHO officials said. International health officials are meeting this week and next week to talk about how to tackle the situation.
Sources:
CNN: "US in process of releasing monkeypox vaccine from national stockpile for 'high-risk' people, CDC says."
CDC: "CDC Media Telebriefing: Update on 2022 U.S. Monkeypox Investigation," "Travel Notices: Monkeypox in Multiple Countries."
Reuters: "U.S. health officials releasing some Jynneos vaccine doses for monkeypox — CDC," "WHO says monkeypox outbreak 'containable,' confirms 131 cases outside Africa."
ABC News: "1 confirmed, 6 presumptive monkeypox cases in US, government releasing vaccines for exposed."
The Associated Press: "Presumptive case of monkeypox reported in Seattle area."