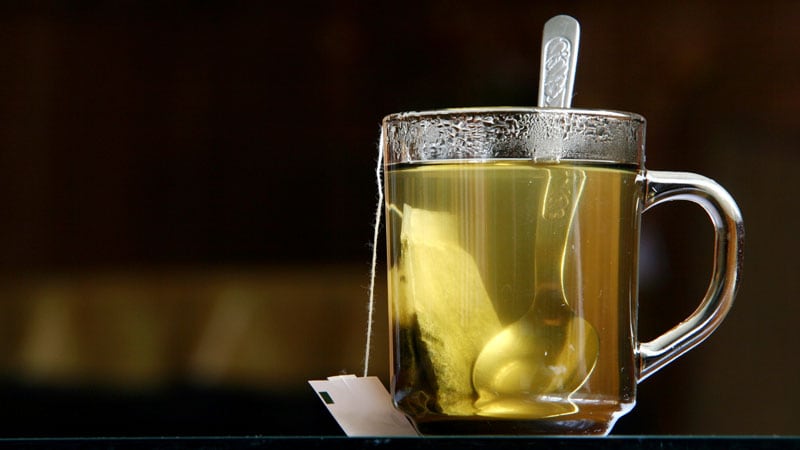 A claim that drinking tea might protect people against developing type 2 diabetes has been met with caution from multiple experts ahead of the annual meeting of the European Association for the Study of Diabetes.
The claim is that people who drink four or more cups of tea every day – specifically green, Oolong, or black tea – are 17% less likely to develop type 2 diabetes than those who do not drink tea. Drinking fewer cups of tea per day was not found to confer any benefit.
"Our results are exciting because they suggest that people can do something as simple as drinking four cups of tea a day to potentially lessen their risk of developing type 2 diabetes," Xiaying Li of Wuhan (China) University of Science and Technology is quoted as saying in an official EASD press release.
"It is possible that particular components in tea, such as polyphenols, may reduce blood glucose levels, but a sufficient amount of these bioactive compounds may be needed to be effective," Dr. Li added.
"The words 'suggest' and 'potentially' are crucial here," said Kevin McConway, PhD, MSc, MBA, emeritus professor of applied statistics at The Open University, said in a separate statement to the press that reeled in Dr. Li's enthusiasm.
"Tea drinking would only be useful for reducing diabetes risk if the tea drinking causes reductions in risk, that is, if the risk is reduced if you drink the tea and not if you don't – and this study simply can't show whether it does this or not," Dr. Conway stressed.
Naveed Sattar, FMedSci FRCPath FRCPGlas FRSE, professor of metabolic medicine at the University of Glasgow, was also cautiously critical. "There is no good trial evidence whatsoever that the chemicals in tea prevent diabetes," he observed separately.
"So, I suspect its more about tea being healthier (less calorific) than many alternative drinks or tea drinkers leading healthier lives more generally."
Dr. Sattar added that it could be that people who drink tea might also be avoiding drinking more harmful sugary drinks and have other health behaviors that might lead them to have a lower risk for type 2 diabetes.
Time for Tea?
Dr. Li will present the findings of two analyses on Sept. 21 at the EASD meeting: the first a large observational cohort study and the second an updated systematic review and meta-analysis.
For the cohort study, Dr. Li and her coauthors took data on more than 5,100 adults who had participated in the long-running and ongoing China Health and Nutrition Survey (CHNS). Information on tea drinking behavior was extracted from questionnaires that had been filled out at two time points – 1997 and 2009 – and they determined whether people had developed type 2 diabetes according to American Diabetes Association criteria.
Nearly half, 45.8%, were found to be tea drinkers, and 10% of the population they sampled had developed type 2 diabetes. No association between tea drinking and type 2 diabetes development was found, however, with the hazard ratio comparing tea drinkers and non–tea drinkers sitting firmly at 1.02. Moreover, a sensitivity analysis that excluded participants who had developed type 2 diabetes in the first 3 years of follow-up did not change the result.
Things were slightly different when Dr. Li and associates performed their meta-analysis that involved analyzing data on more than 1 million participants in 19 studies conducted in eight countries that had been published up to September 2021.
Here, they found there was a significant (P < .003) linear association between tea consumption and having type 2 diabetes, with the relative risk of developing type 2 diabetes decreasing by 0.986 for every additional cup of tea that was drunk.
HRs for the development of type 2 diabetes in tea drinkers versus non–tea drinkers were 1.00 for those who drank less than one cup per day, 0.96 for those who had one to two cups, and 0.84 for those who drank four or more cups.
"While more research needs to be done to determine the exact dosage and mechanisms behind these observations, our findings suggest that drinking tea is beneficial in reducing the risk of type 2 diabetes, but only at high doses (at least 4 cups a day)", said Dr. Li.
Perhaps, "we did not find an association between tea drinking and type 2 diabetes in our cohort study because we did not look at higher tea consumption," she added.
Tempest in a Teacup
"This is large, observational data. It's not a randomized controlled trial so there's plenty of room for data to be misunderstood," warned Matt Sydes, MSc, professor of clinical trials & methodology at the MRC Clinical Trials Unit, University College London.
"Everyone drinks fluids. If there is an effect here (and that's a big if), it might be not about the tea they drink, but about what they don't drink. One can't tell at the moment. It seems unlikely that a large randomized controlled trial could be done to disambiguate" added Dr. Sydes.
"Being only a conference abstract, it is difficult to assess the quality of this research," Baptiste Leurent, PhD, a medical statistician also working at University College London, said. Not only was the cohort study observational, so were all the other studies included in the meta-analysis, he pointed out.
"Therefore, no cause-effect conclusions can be drawn. The association could simply be due to other factors, such as those drinking more tea having a healthier lifestyle. It does not seem that the authors tried to control for confounders, which is usually difficult in meta-analysis," Dr. Leurent said.
"There is reason to be a bit skeptical at this point; we really need to have the full details to assess it properly," said Jonathan Cook of the Centre for Statistics in Medicine at the University of Oxford (England). "It's a fair attempt to look at this, but not cutting edge, [using] fairly standard approaches."
Similar studies have shown a reduced risk associated with coffee drinking, noted Duane Mellor, PhD, a registered dietitian and senior teaching fellow at Aston University in Birmingham.
"The important take-home message is that lifestyle is important in managing risk of developing type 2 diabetes," Dr. Mellor said.
"That includes choosing low-calorie drinks including mainly water as well as unsweetened tea and coffee as your drinks of choice as part of a healthy lifestyle."
The study was funded by the Young Talents Project of Hubei Provincial Health Commission, the Science and Technology Research Key Project of Education Department of Hubei Province, the Sanuo Diabetes Charity Foundation, and the Xiangyang Science and Technology Plan Project, all based in China. Dr. Li had no conflicts of interest to disclose. Dr. McConway is a Trustee and on the advisory committee of The Science Media Centre. Dr. Sattar has consulted for many companies that make diabetes and cardiovascular drugs and has been involved in multiple trials of lifestyle approaches for the prevention and remission of diabetes. Dr. Sydes, Dr. Leurent, Dr. Cook, and Dr. Mellor had no conflicts of interest to report.
This story originally appeared on MDedge.com, part of the Medscape Professional Network.