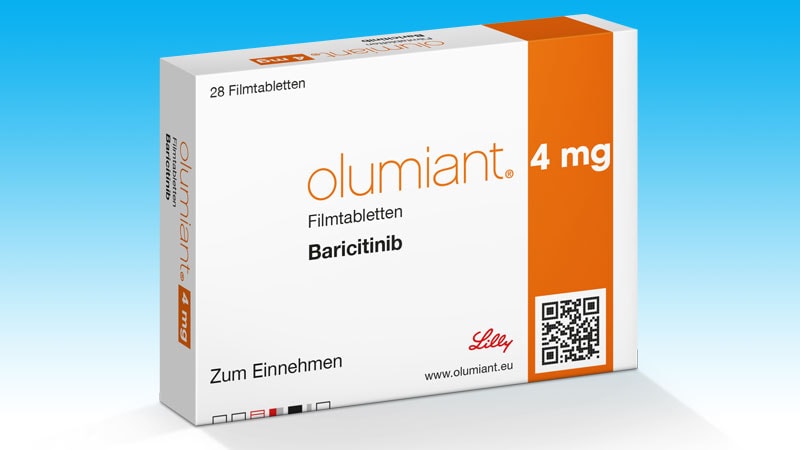 The US Food and Drug Administration (FDA) today approved baricitinib oral tablets as the first systemic treatment for adult patients with severe alopecia areata.
The disorder with the hallmark signs of patchy baldness affects more than 300,000 people in the US each year. In patients with the autoimmune disorder, the body attacks its own hair follicles and hair falls out, often in clumps. In February, the FDA granted priority review for baricitinib in adults with severe AA.
Baricitinib (Olumiant) is a Janus kinase (JAK) inhibitor, which blocks the activity of one or more enzymes, interfering with the pathway that leads to inflammation.
The FDA reports the most common side effects include upper respiratory tract infections, headache, acne, hyperlipidemia, increase of creatinine phosphokinase, urinary tract infection, elevated liver enzymes, inflammation of hair follicles, fatigue, lower respiratory tract infections, nausea, Candida infections, anemia, neutropenia, abdominal pain, herpes zoster (shingles), and weight gain. The labeling for baricitinib includes a boxed warning for serious infections, mortality, malignancy, major adverse cardiovascular events, and thrombosis.
Evidence From Two Trials Led to Announcement
Today's decision came after review of the results from two randomized, double-blind, placebo-controlled trials (BRAVE AA-1 and BRAVE AA-2) with patients who had at least 50% scalp hair loss as measured by the Severity of Alopecia Tool (SALT score) for more than 6 months.
Patients in these trials got either a placebo, 2 mg of baricitinib or 4 mg of baricitinib every day. The primary endpoint for both trials was the proportion of patients who achieved at least 80% scalp hair coverage at week 36.
In BRAVE AA-1, 22% of the 184 patients who received 2 mg of baricitinib and 35% of the 281 patients who received 4 mg of baricitinib achieved at least 80% scalp hair coverage, compared with 5% of the 189 patients in the placebo group.
In BRAVE AA-2, 17% of the 156 patients who received 2 mg of baricitinib and 32% of the 234 patients who received 4 mg achieved at least 80% scalp hair coverage, compared with 3% of the 156 patients in the placebo group.
The results were reported at the annual meeting of the American Academy of Dermatology meeting in March.
Baricitinib was originally approved in 2018 as a treatment for adult patients with moderately to severely active rheumatoid arthritis who have had an inadequate response to one or more tumor necrosis factor (TNF)-blockers. It is also approved for treating COVID-19 in certain hospitalized adults.
Two other companies, Pfizer and Concert Pharmaceuticals, have JAK inhibitors in late-stage development for AA. The drugs are already on the market for treating rheumatoid arthritis and other autoimmune diseases. FDA approval is important for insurance coverage of the drugs, which have a list price of nearly $2500 a month, according to The New York Times.
Until now, the only treatments for moderate to severe AA approved by the FDA have been intralesional steroid injections, contact sensitization, and systemic immunosuppressants, but they have demonstrated limited efficacy, are inconvenient for patients to take, and have been unsuitable for use long term.
"Today's approval will help fulfill a significant unmet need for patients with severe alopecia areata," Kendall Marcus, MD, director of the Division of Dermatology and Dentistry in the FDA's Center for Drug Evaluation and Research, said in the press release.
As Medscape reported last month, The European Medicines Agency's (EMA) Committee for Medicinal Products for Human Use (CHMP) has recommended approval of baricitinib for adults with severe AA.
AA received widespread international attention earlier this year at the Academy Awards ceremony, when actor Will Smith walked from the audience up onto the stage and slapped comedian Chris Rock in the face after he directed a joke at Smith's wife, Jada Pinkett Smith, for her shaved head. Pinkett Smith has AA and has been public about her struggles with the disease.
Marcia Frellick is a freelance journalist based in Chicago. She has previously written for the Chicago Tribune, Science News, and Nurse.com, and was an editor at the Chicago Sun-Times, the Cincinnati Enquirer, and the St. Cloud (Minnesota) Times. Follow her on Twitter at @mfrellick
For more news, follow Medscape on Facebook, Twitter, Instagram, YouTube, and LinkedIn