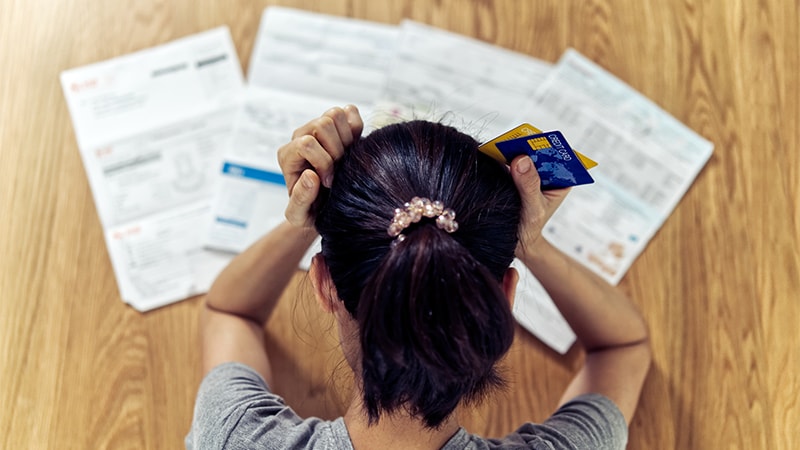 Severe financial strain is associated with an increased mortality risk within 180 days of discharge among elderly patients recovering from an acute myocardial infarction (MI), new research suggests.
The findings, from the SILVER-AMI cohort study, showed higher mortality rates among those self-reporting severe financial strain, even after adjustment for factors such as medical complexity and functional impairments.
"While a limitation of the study is the potential for confounding by unmeasured illness severity, the magnitude of the mortality difference suggests assessment of financial strain may identify a unique subset of older adults at elevated risk following an MI," they conclude.
Jason R. Falvey, PT, DPT, PhD, of the University of Maryland School of Medicine in Baltimore, and colleagues published their findings as a research letter in JAMA Internal Medicine.
Prior studies have shown the impact of financial strain on health outcomes and prescription drug adherence among patients, noted Falvey. Their findings highlight the importance of conducting this screening for all older adults during hospital admission for acute myocardial infarction, he said.
Screening patients for potential financial strain during a hospital stay presents an opportunity for medical providers to identify resource needs in an actionable manner, the researchers noted. Effective screening may be beneficial in guiding targeted recommendations for community assistance, like support with medication drug copayments, reliable medical equipment, and transportation resources, the authors write.
These interventions may need to be combined with local- and state-level policy changes to benefit outcomes for financially strained elderly patients treated for MI, the study authors said.
"It would be important for physicians to gauge the degree of financial strain on patients since it has a direct impact on their health after a heart attack," said Jim Liu, MD, a cardiologist at The Ohio State University Wexner Medical Center in Columbus, who was not involved in the research. "The inability to afford medications, travel to appointments, or undergo other treatments due to costs creates a huge barrier to effective medical treatment."
For this analysis, the researchers assessed 2851 patients from the SILVER-AMI study, a prospective, longitudinal cohort of adults 75 years of age and older. Patients were from 94 participating sites in 34 different states. Mean age was about 81 years.
Patients self-reported their level of financial strain during admission for acute MI. Financial strain was classified as:
Severe, defined as not enough to meet basic needs on a monthly basis

Moderate strain, with just enough to meet basic needs on a monthly basis

No strain, having more than enough to meet basic needs on a monthly basis
Notably, financially strained adults had greater rates of geriatric vulnerability and chronic disease than did those with no financial strain.
About 65% of the cohort had no financial strain, about 28% reported moderate strain, and about 7% reported having severe strain.
Within 6 months of discharge, 134 of 1864 (7.2%) patients with no financial strain died compared with 74 of 796 (9.2%) of those with moderate strain and 32 of 191 (16.8%) of those reporting severe financial strain
After adjustment, severe financial strain was associated with a 61% increase in 180-day mortality risk (hazard ratio [HR], 1.61; 95% CI, 1.07 – 2.41) compared with those with no strain.
Moderate financial strain was not associated with mortality (HR, 1.04; 95% CI, 0.78 – 1.39).
Results were similar after adjusting for sex among those with severe strain (HR, 1.60; 95% CI, 1.07 – 2.41) and those with moderate strain (HR, 1.04; 95% CI, 0.78 – 1.39).
Liu noted that the rise in mortality in the severe financial strain cohorts appeared to begin within 2 weeks following discharge and went on throughout the 6 months.
"This suggests that the effects of financial strain can be seen rather quickly after a heart attack and can have long lasting effects, up to at least 6 months out," he told theheart.org | Medscape Cardiology.
The SILVER-AMI study was supported by the National Heart, Lung, and Blood Institute; the National Institute on Aging; a Paul B. Beeson Emerging Leaders in Aging Award; and the University of Maryland Claude D. Pepper Older Americans Independence Center. Falvey has disclosed no relevant financial relationships. Co-author Christopher R. Keys, JD, reported prior stock ownership from Merck, General Electric, 3MCompany, and Aflac outside the submitted work. Co-author Sarwat I. Chaudhry, MD, reported grants from the National Institutes of Health during the conduct of the study and personal fees from CVS Caremark outside the submitted work.
JAMA Intern Med. Published online February 21, 2022. Research Letter
Ashley Lyles is an award-winning medical journalist. She is a graduate of New York University's Science, Health, and Environmental Reporting Program. Previously, she studied professional writing at Michigan State University, where she also took premedical classes. Her work has taken her to Honduras, Cambodia, France, and Ghana and has appeared in outlets like The New York Times Daily 360, PBS NewsHour, The Huffington Post, Undark, The Root, Psychology Today, Insider, and Tonic (Health by Vice), among other publications.
For more from theheart.org | Medscape Cardiology, join us on Twitter and Facebook