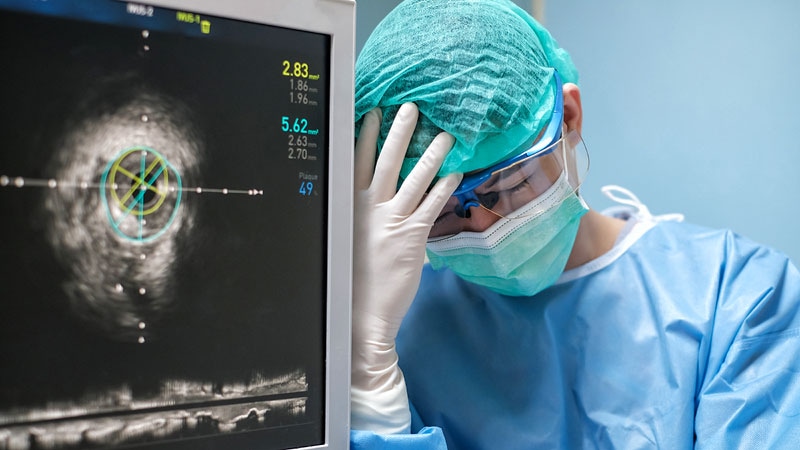 A new study finds that cardiovascular diagnostic testing has yet to return to prepandemic levels in some regions of the world, and that excess pandemic-related stress among physicians and testing staff may be slowing that recovery.
The INCAPS COVID Investigators Group previously reported that cardiac diagnostic procedure volumes took a direct hit in the early days of the COVID-19 pandemic, falling 64% globally from March 2019 to April 2020.
Results from a follow-up survey of 669 centers in 107 countries, published today in the Journal of the American College of Cardiology, show that 97% of this decrease had recovered by April 2021.
Modest 3% to 13% increases in procedure volumes from 2019 to 2021 — associated with recovery rates of 105% to 119% — were reported by centers in the Far East, Southeast Asia and the Pacific, United States and Canada, and Western Europe; there was full recovery in Eastern Europe.
Procedure volumes continued to decrease and recovery lagged, however, in Latin America (17% decrease from 2019; 79% recovery rate), Middle East and South Asia (33% decrease; 58% recovery), and Africa (42% decrease; 45% recovery).
By 2021, overall cardiac diagnostic testing recovered to prepandemic levels in high-income and upper-middle-income countries (recovery rates, 108% and 99%, respectively), whereas testing in lower-middle- and low-income countries remained depressed, at levels 58% and 48% of those before COVID-19, respectively (recovery rates, 46% and 30%, respectively).
"The falloff from baseline procedure volume in low- and lower-middle-income countries was more than I would have anticipated," study author Andrew J. Einstein, MD, PhD, Columbia University Irving Medical Center/New York-Presbyterian Hospital, New York City, told theheart.org | Medscape Cardiology.
"If you have a healthcare system that is stressed and you add COVID on top of that, it can take a while to recover," he said. "And then the question is, in how many patients are we missing coronary disease, valvular disease, heart failure, etcetera, who should have been getting treatment."
An accompanying editorial suggests several factors likely play a role in the observed variability, not the least of which is vaccine inequity. Lower-income countries had to rely on a limited vaccine donation and cared for a disproportionately higher number of populations at risk, many of whom were unvaccinated.
Recent efforts to address vaccine inequity, such as work by the World Health Organization to establish development hubs in developing countries, are encouraging, but more work is needed to "reduce existing disparities and their dreadful sequalae," say Mouaz Al-Mallah, MD, MSc, Houston Methodist DeBakey Heart and Vascular Center, Texas, and Tasneem Z. Naqvi, MD, MMM, Mayo Clinic, Phoenix.
"It is time we come together to reduce these disparities because 'we are as strong as our weakest link'," the editorialists write. "As the prospect of an endemic COVID-19 is increasingly looking likely, we should increase the resiliency of other health care systems to combat these infections and allow for uninterrupted cardiac services while maintaining the safety of the health care staff."
Excess Stress: A Universal Feature
During the design of the INCAPS COVID 2 follow-up study, a theme arose among committee members that many of their colleagues had left practice, gone back to school, or were redeployed during the pandemic, leaving centers understaffed and adding to the work and stress of the rest of the team, observed Einstein, who was juggling seven meetings and an impromptu shift on the day he spoke with Medscape.
The investigators added new queries to the survey and describe finding an "alarming degree" of excess COVID-related stress affecting 37% of physicians and 40% of nonphysician staff members.
Moreover, increased stress was reported to affect patient care at 78% of sites, with 23% describing the impact as moderate and 8% as profound.
In multivariate analysis, perceived psychological stress was a significant predictor of decreased recovery of cardiac testing (P = .003).
Excess psychological stress appeared to be a universal feature, with no major regional or economic level differences observed.
"The system puts patients at the center, but I think we also have to put our teams, our staff at the center, too, and make sure we're doing everything possible to make sure they're not overwhelmed to the point of retiring, for example, by what's asked upon them," Einstein said.
Practice, Testing Patterns
Personal protective equipment shortages persisted worldwide in 2021, especially in low-income countries and especially for high-filtration masks, although not to the degree seen in 2020. Nearly half of sites (48%) previously reported reducing cardiac testing hours, but only 17% did so in 2021.
Testing patterns also shifted during the pandemic, with a drop in more traditional modalities and growth in advanced imaging, Einstein said. Stress testing was used 12% less frequently in 2021 than in 2019, whereas cardiac magnetic resonance increased 22% and stress PET 25%. Use of coronary CT angiography increased 14%, whereas stress SPECT fell by 16%.
Pharmacologic stress testing continued to be preferred over exercise stress testing at 62% of sites in 2020 and at 36% of sites in 2021.
The changes are likely a confluence of general trends toward advanced imaging and COVID-related avoidance of longer procedures and aerosolization during testing, he suggested.
Al-Mallah and Naqvi point out that different and, at times, contradictory guidance on masks, vaccines, and gatherings led to significant differences in day-to-day practice at the institutional level. By the end of April 2021, for example, only 20% of sites worldwide required COVID-19 testing prior to stress testing in all patients, and another 9% required such testing for nonvaccinated patients.
"Such heterogeneity highlights opportunities to optimize care for patients during the pandemic, such as having timely best-care guideline recommendations from an international authority such as the World Health Organization," the editorialists write.
Limitations of the study are that the data are skewed to reflect COVID-19 surges occurring globally in April 2021 and do not capture the later phase of the Delta surge and subsequent waves driven by the Omicron variant, they note.
Einstein reports receiving speaker fees from Ionetix, consulting fees from W.L. Gore & Associates, authorship fees from Wolters Kluwer Healthcare–UpToDate, and grants or grants pending to his institution from Attralus, Canon Medical Systems, Eidos Therapeutics, GE Healthcare, Pfizer, Roche, W.L. Gore, and XyloCor Therapeutics. Al-Mallah and Naqvi report having no relevant financial disclosures.
J Am Coll Cardiol. 2022;79:2001-2017, 2018-2020. Full text, Editorial
Follow Patrice Wendling on Twitter: @pwendl For more from theheart.org | Medscape Cardiology, follow us on Twitter and Facebook.