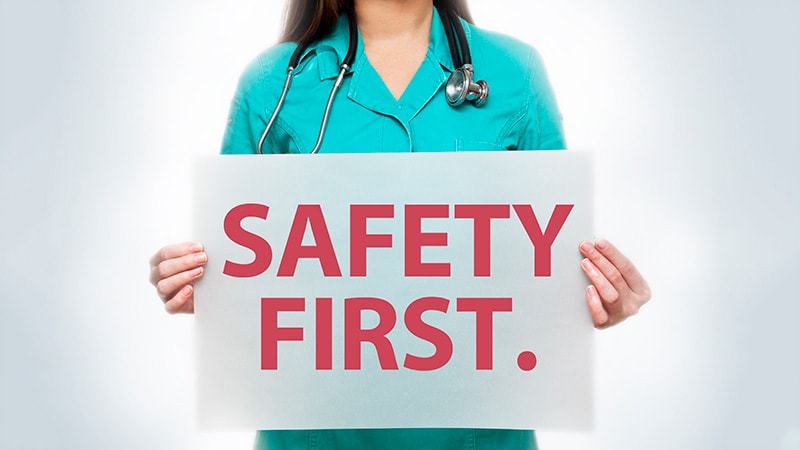 A hospital quality and safety data reporting requirement that the government had proposed to place on hold for Fiscal Year 2023 — owing to the confounding effects of the COVID pandemic on hospital performance and data-gathering — was reinstated last week by the Centers for Medicare and Medicaid Services (CMS).
The preliminary Inpatient Prospective Payment System rule, used for making annual adjustments to hospital payments and policies under Medicare and released for public comment in April, included a proposal to withhold publication of the 10-item Patient Safety and Adverse Events Composite measure, also known as PSI-90. The government proposed to collect the data but not to publicly release it on Care Compare, the website that compiles and publishes quality data and comparative ratings on hospitals for consumers.
Observers say complaints by consumer advocacy groups that important and useful patient safety data would be hidden from the public by this move likely led CMS to reverse course and go forward with releasing PSI-90 data as usual. The final rule mandates hospitals to report the composite of preventable, hospital-associated adverse events, which include rates of pressure ulcers, in-hospital falls with hip fractures, sepsis, and several post-operative complications, for publication on Care Compare.
The data won't be used, however, to penalize hospitals financially through calculated scores such as the Hospital-Acquired Condition Reduction Program, although it will contribute to hospitals' star ratings on Care Compare. Publication of PSI-90 rates on the public website means that the hospital safety data will be available to consumers as well as payers and competitors.
In an email to Medscape Medical News, James Gelfand, executive vice president of public affairs for the ERISA Industry Committee, called CMS's reversal on reporting CSI-90 "a major victory for patients and employers. Rather than suppress critical patient safety information, CMS will continue to collect and publish it. This will empower patients to make informed decisions about where to get care, and help employers build plans and networks that protect the health and safety of our workers and their families," he said.
But hospital advocates, notably the American Hospital Association (AHA), are concerned that the CSI-90 reporting requirements are unfair in a global pandemic and unlikely to enhance patient safety. "We have learned that COVID-19 was highly disruptive to how quality of care is measured," said Akin Demehin, AHA's senior director of Quality and Safety Policy. "CMS's preliminary proposal recognized the ways COVID has disturbed quality performing and reporting. Tying it to payment would have been unfair and misguided. But even just reporting it is a problem."
Demehin called CSI-90 a not-particularly-reliable indicator of quality hospital care because it is derived from billing codes submitted by hospitals to establish patient safety events in the hospital rather than clinical data from hospital medical records. "In order to really compare hospital quality and safety, you need more rigorous reporting," he said, utilizing the growing capacities of hospital electronic health records.
Pandemic-Imposed Quality Challenges
What made quality measurement difficult in the pandemic? "At the outset, hospitals were dealing with a whole lot of unknowns about the disease, its treatment, how to staff for it in the face of surges, changes in patterns of care, deferrals of voluntary procedures and increased complexity of patient need," Demehin said.
"In measuring catheter-associated urinary tract infections or central line infections, how do you account for patients who came into the hospital sicker because they had deferred seeking treatment due to the pandemic?" At the same time, nurses and other staff whose jobs included the painstaking gathering of quality data might be reassigned to clinical teams during a surge.
Demehin recommended making room for more dialogue between consumers, providers, and the government in order to find the right metrics for arming consumers with the data that they need to compare hospitals in ways that drive improvement, but with accuracy and fairness to hospitals. "A lot of technical details go into publicly reporting quality," he said, adding that consumers should appreciate that Care Compare is only one source of information on hospital quality, reflecting some of what happens in the hospital but not everything.
"From what we're hearing, CMS found a technical way to report CSI-90 that satisfied their requirement for fair reporting," noted Missy Danforth, vice president of Hospital Ratings for the Leapfrog Group. "Some hospitals around the country came forward and said: 'We were able to stay safe despite the pandemic.' Some hospitals actually got better, even in communities that were hard hit, able to keep their infections way down and improve patient experience scores. We're excited about the opportunity to learn more from their experience to elevate best practice standards."
"The CSI-90 composite measure will be reported, and consumers will be able to look it up. That's good," said Patricia Kelmar, JD, Health Care Campaigns Director for the US Public Interest Research Group (PIRG), a federation of state PIRGs. The composite measure is made up of 10 different measurable harms in the hospital, which the Leapfrog Group estimates are responsible for 24,000 deaths per year, she said. After years of gradual improvement in rates of some hospital-acquired infections, infection rates started to shoot up again during the pandemic.
"These kinds of quality measures are the best things we have to help us achieve better quality," Kelmar said. "By making hospitals report how they are doing on safety, we know their competitors will be looking at the data," she noted. As a result, hospital C-Suites will be paying more attention.
Ultimately, it doesn't matter if hospitals were overworked and understaffed during the pandemic, she said. "These safety events are so important, you need to be working to prevent them, regardless. We're not going to give you a pass on safety in these admittedly difficult times." Quality should be so baked into the care processes done every day in the hospital that even in the midst of a public health emergency, patients are kept safe. "Each patient safety event is an extraordinary circumstance for that patient," Kelmar said.
"Preventing patient harm is a daily job, and we learned in the public health crisis of COVID that it was possible to track and report numbers quickly, every day," she said. "The reality is that the numbers, good or bad, are what they are. If we can understand where the cracks are in the system, could there be things we could learn from experience to make improvements? The pandemic proved we can pull together. As we went along, COVID care got better."
Larry Beresford is an Oakland, California–based freelance medical journalist with a breadth of experience writing about the policy, financial, clinical, management, and human aspects of hospice, palliative care, end-of-life care, death, and dying.
Follow Medscape on Facebook, Twitter, Instagram, and YouTube