A new score to gauge histologic remission in ulcerative colitis (UC), based simply on the presence or absence of neutrophils, is effective and easier to use than other indices, according to authors of a study published online in Gut.
Researchers, led by Xianyong Gui, MD, a surgical pathologist at the University of Washington, Seattle, developed the index, called the Paddington International Virtual Chromoendoscopy Score (PICaSSO) Histologic Remission Index (PHRI). They wrote that, when the index was plugged into an artificial intelligence (AI) model, the algorithm accurately determined histologic remission.
"Our preliminary AI algorithm differentiated active from quiescent UC with 78% sensitivity, 91.7% specificity, and 86% accuracy," the authors noted.
Histologic remission has been previously proposed as a treatment target for UC and many indices have been developed to score disease activity, but they haven't been widely used because of their complexity, the authors wrote. They believe this index can be applied easily and efficiently in clinical practice. "Since a pathologist needs only to identify neutrophils, which is a part of routine in reading biopsy slides as clinical histopathological evaluation, one can have the PHRI score immediately without making additional effort and spending extra time. Thus, the PHRI score can also be easily included into the pathology reports."
The researchers found that the index correlates strongly with endoscopic activity and predicts UC clinical outcomes, including hospitalization, colectomy, and initiation or changes in treatment caused by UC flare-up.
Gui's team developed the index using 614 biopsies from 307 patients with UC from 11 centers in Europe and North America who were prospectively enrolled in the PICaSSO study.
The index was a collaboration between pathologists and endoscopists who wanted a histologic score that would align with the endoscopic score and go beyond endoscopic evaluation. It eliminates consideration of ulceration/erosion, often a factor in other indices because variability can be high without contributing much to accuracy.
Keen Interest in Histologic Remission
David T. Rubin, MD, chief of gastroenterology, hepatology and nutrition and the codirector of the Digestive Diseases Center at the University of Chicago, noted continued interest in whether histologic findings (biopsies) of the mucosa are a clinically important and reachable treatment goal with UC.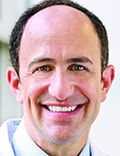 "It's important to acknowledge that it is not yet a target of treatment, in part because of a variety of challenges and unknowns related to it," he said.
The current study addresses a major barrier to incorporation of histology in the clinical management of patients with UC: individual interpretation. "Development of this simplified novel scoring approach with artificial intelligence could be a major step forward. We are hopeful that this type of AI approach will eliminate some of the barriers to use of histology as a marker of treatment control. It is of interest to note that this novel score correlated to the endoscopic appearance, but didn't necessarily demonstrate superiority to it. This is important, since we have hypothesized that histology may provide more information about outcomes than endoscopy alone," Rubin said.
He added that PHRI will need broader validation and incorporation into meaningful interventions before it can be incorporated into clinical practice, but that "this type of technological innovation is what the field needs in order to move forward."
The authors and Rubin declared no relevant financial conflicts. Two coauthors are funded by the NIHR Birmingham Biomedical Research Centre at the University Hospitals Birmingham NHS Foundation Trust and the University of Birmingham in the United Kingdom.
This article originally appeared on MDedge.com, part of the Medscape Professional Network.