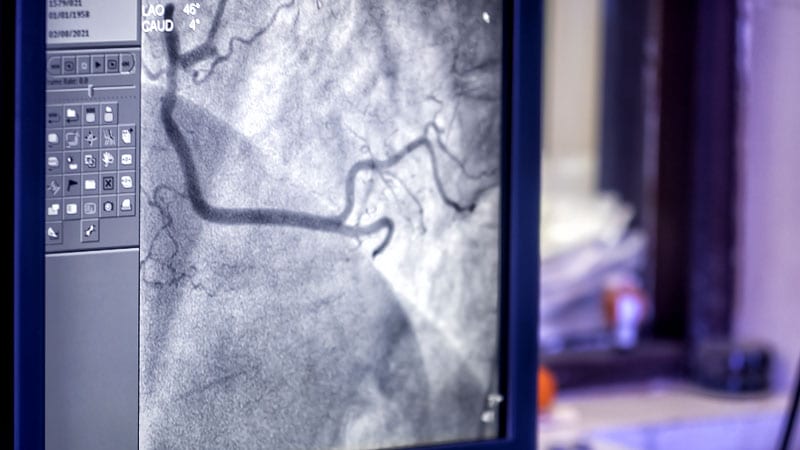 Advanced coronary artery disease (CAD) worsens long-term survival in patients undergoing transcatheter aortic valve replacement (TAVR), but pre-TAVR percutaneous coronary intervention (PCI), guided by angiography, isn't useful for lessening the risk, a prospective study suggests.
Coexisting CAD made 5-year survival worse for the study's patients who underwent TAVR whether or not it was anatomically complex or had been treated with PCI, and whether or not PCI achieved complete revascularization.
It also predicted cardiovascular (CV) death at 5 years, PCI notwithstanding, in the analysis of about 600 patients undergoing TAVR at a major center over a dozen years.
Such pre-TAVR PCI doesn't seem to improve survival, but a more selective approach may be warranted for lesions that could potentially complicate the TAVR procedure itself, Lennert Minten, MD, Katholieke Universiteit, Leuven, Belgium, told theheart.org | Medscape Cardiology.
In such cases, he proposed, simple but critical proximal coronary lesions could be treated with PCI if their associated myocardial territories might become ischemic during rapid ventricular pacing, which is often used during TAVR valve deployment to dampen cardiac output. But such a strategy wouldn't be based on strong evidence, observed Minten, lead author of the analysis published August 15 in JACC Cardiovascular Interventions.
The current findings are in line with other research, still, "this is to date the largest long-term follow-up study in the field," states Giulio G. Stefanini, MD, PhD, and Mauro Gitto, MD, both of Humanitas University, Pieve Emanuele-Milan, Italy, in an accompanying editorial.
They propose a tailored approach that considers CAD extent and functional significance along with clinical features and coronary anatomy to guide CAD management before TAVR. Potentially, they write, PCI "could be reasonably deferred in patients with multiple comorbidities and at high bleeding risk, whereas pre-TAVR coronary revascularization should at least be considered if proximal segments of major epicardial arteries are diseased or if a challenging coronary re-access is expected."
Symptom Relief vs Survival
The study judged pre-TAVR PCI's effects on outcomes primarily by all-cause and CV mortality. But for older patients undergoing TAVR, "quality of life, relative to mortality, is increasingly important," observed Neal S. Kleiman, MD, Houston Methodist DeBakey Heart and Vascular Center, Texas. Such PCI, angiographically guided, could potentially prevent or lessen ischemic symptoms later on, said Kleiman, who was not involved with the analysis.
For example, he told theheart.org | Medscape Cardiology, an older TAVR candidate with CAD may be physically limited primarily by the aortic stenosis. "So he's not very active. Then you replace the valve, he starts to become more active and has angina. But now he has a valve in that may make it more difficult to get into the coronaries." Angiography-guided PCI before TAVR might have avoided such a dilemma.
Whether the selection of PCI targets should be guided by angiography or some other means is really "a critical question" that the current study doesn't answer, Kleiman said. The value of PCI guided by nuclear perfusion scans or coronary fractional flow reserve (FFR), for example, hasn't been determined in patients with aortic stenosis, "so right now we're stuck with angiography," he added.
That pre-TAVR PCI was unable to lessen the mortality risk from coronary disease highlights the prognostic impact of post-TAVR progressive coronary disease. Management should focus primarily on "medical therapy to prevent atherosclerosis from further developing," Minten said. "Optimizing their medical care, including statins, and treating their other risk factors — I think that's the most important thing."
The analysis followed all patients undergoing TAVR at a major referral center from 2008 to 2020. Of the 604 patients, 356 had coronary lesions of at least 50% angiographic severity, which "were considered for revascularization on a case-by-case basis," the report states.
Of that subgroup, 104 had a SYNTAX score exceeding 22, indicating complex CAD, and 107 underwent PCI. "Reasonably complete" revascularization was achieved in 66 of the 107 cases.
Following TAVR, the report states, 414 patients were followed for at least 3 years and 251 patients for 5 years. All-cause mortality at post-TAVR years 1, 2, or 3 didn't differ significantly between those with vs without CAD or by SYNTAX-score stratum, whether PCI was performed, or whether there was complete revascularization.
But at 5 years, noncomplex CAD (SYNTAX score 1-22) and other baseline features independently predicted death from any cause, whereas complex CAD (SYNTAX score >22) only trended as a predictor (Table 1).
Table 1. Hazard Ratios for All-Cause Mortality After Pre-TAVR PCI by Features (Multivariate Analysis)
| Feature | HR | 95% CI | P value |
| --- | --- | --- | --- |
| Complex CAD | 1.49 | 0.98 – 2.25 | .061 |
| Noncomplex CAD | 1.43 | 1.01 – 2.03 | .046 |
| Peripheral vascular disease | 1.52 | 1.11 – 2.10 | .009 |
| Severe lung disease | 2.04 | 1.34 – 3.09 | < .001 |
| Creatinine > 2.0 mg/dL | 1.77 | 1.18 – 2.64 | .006 |
| Arterial hypertension | 0.62 | 0.43 – 0.90 | .012 |
Meanwhile, complex CAD independently predicted CV death over 5 years, whereas noncomplex CAD showed a nonsignificant trend. At no point in the follow-up was angiography-guided PCI associated with a significant increase or decrease in all-cause or CV mortality (Table 2).
Table 2. Hazard Ratios for CV Mortality After Pre-TAVR PCI by Features (Multivariate Analysis)
| Feature | HR | 95% CI | P value |
| --- | --- | --- | --- |
| Complex CAD | 1.84 | 1.03 – 3.31 | .041 |
| Noncomplex CAD | 1.55 | 0.92 – 2.62 | .097 |
| Creatinine >2.0 mg/dL | 2.00 | 1.14 – 3.49 | .015 |
| Arterial hypertension | 0.55 | 0.32 – 0.93 | .024 |
The current analysis could speak only to PCI guided by angiography, agreed Stefanini and Gitto. "A systematic implementation of physiology-guided PCI might represent an opportunity to optimize the management of CAD in TAVR candidates."
Pre-TAVR PCI guided by FFR readings, although untested in randomized trials, was associated with fewer CV events compared with angiography-guided PCI in at least one retrospective study, both the editorialists and Minten et al point out.
Meanwhile, the recently launched, randomized COMPLETE TAVR trial is testing the practice of routine staged PCI of CAD lesions of at least 70% angiographic severity; intervention can take place from 1 to 45 days after successful TAVR. With a projected enrollment of 4000 patients, the trial is scheduled for completion in 2026.
Minten and the other authors have reported no relevant relationships. Stefanini has disclosed receiving personal fees from Abbott Vascular, Boston Scientific, and Pfizer/BMS. Gitto has reported no relevant relationships. Kleiman has disclosed serving as a clinical trial investigator for Edwards Lifesciences, Medtronic, Abbott, and Boston Scientific.
J Am Coll Cardiol Intv. Published online August 15, 2022. Abstract, Editorial
Follow Steve Stiles on Twitter: @SteveStiles2. For more from theheart.org | Medscape Cardiology, follow us on Twitter and Facebook.