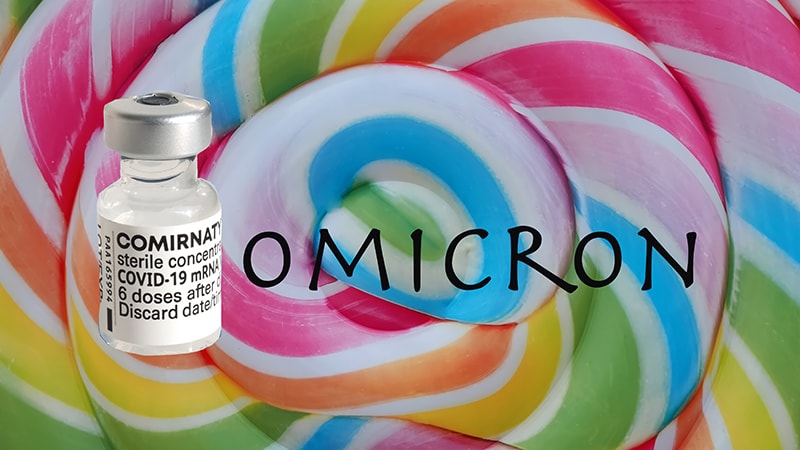 Editor's note: Find the latest COVID-19 news and guidance in Medscape's Coronavirus Resource Center.
Pfizer and BioNTech announced Saturday that their two Omicron-targeted vaccines are safe and effective against the coronavirus, including the latest Omicron subvariants, according to The Associated Press.
The announcement comes days before the FDA is slated to meet to discuss whether Americans should receive updated booster shots this fall.
The current primary vaccines and booster still offer protection against COVID-19, though they are less effective against the most recent Omicron variants. A new formulation could be used as a fourth shot — or a second booster — to better protect against another coronavirus surge expected this fall and winter.
Pfizer studied two potential vaccines: a "monovalent" shot that targets only Omicron, and a "bivalent" combination booster that adds Omicron to the original vaccine. The company also tested whether to keep the same dosage of 30 micrograms or double it.
The Phase 2/3 trial included 1,234 adults over age 55 who had already received three vaccine doses. A month later, the Omicron-adapted monovalent vaccine led to a 13.5-fold increase in neutralizing antibodies against Omicron in the 30-microgram formulation and a 19.6-fold increase in antibodies in the 60-microgram formulation. The bivalent vaccine had a 9.1-fold and 10.9-fold increase in antibodies at those levels, which is about 1.5 times more than receiving another dose of the original vaccine, the AP reported.
"Based on these data, we believe we have two very strong Omicron-adapted candidates that elicit a substantially higher immune response against Omicron than we've seen to date," Albert Bourla, chairman and CEO of Pfizer, said in a statement.
"We look forward to discussing these data with the scientific community and health authorities so we may rapidly introduce an Omicron-adapted booster as soon as possible if authorized by regulators," he said.
Pfizer said preliminary lab studies showed that both the updated shots also provided protection against BA.4 and BA.5, the Omicron subvariants that are spreading in the U.S. and expected to become dominant soon. The two shots neutralize BA.4 and BA.5, though about three-fold lower than against BA.1. Pfizer will continue to collect additional data on the BA.4 and BA.5 variants in the coming weeks, the company said.
The studies weren't designed to track how well the updated boosters prevented COVID-19 cases, the AP reported. They also didn't indicate how long the protection would last with the different formulations or dosages.
The FDA's vaccine advisory committee will likely publicly debate the data during a meeting on Tuesday, the AP reported, as they decide whether to recommend a change to COVID-19 vaccine formulations with enough time to manufacture them by the fall.
The International Coalition of Medicines Regulatory Authorities will also review Pfizer's latest data on Thursday to decide whether new boosters should be approved in Europe.
Sources:
The Associated Press: "Pfizer says tweaked COVID-19 shots boost omicron protection."
Pfizer: "Pfizer and BioNTech Announce Omicron-Adapted COVID-19 Vaccine Candidates Demonstrate High Immune Response Against Omicron."