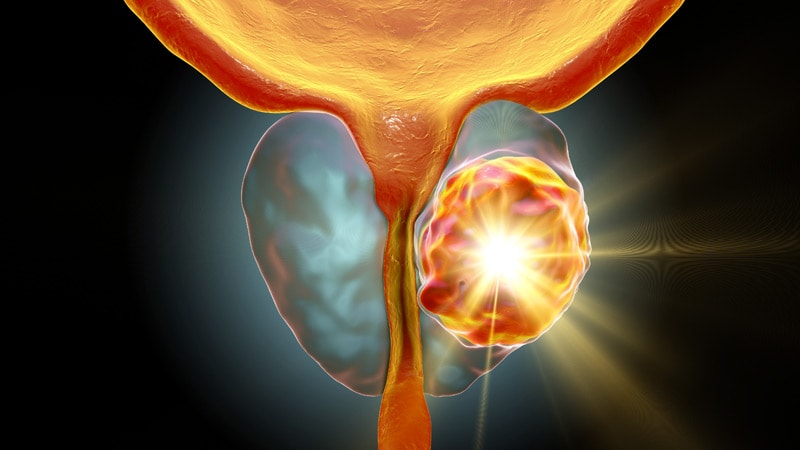 When it comes to surgical margins following radical prostatectomy, does size matter?
In a word, yes.
That's the conclusion reached by Australian researchers who conducted a systematic review and meta-analysis.
The length of positive surgical margins after prostatectomy in patients with prostate cancer is indeed prognostic of biochemical recurrence, according to lead author Athul John, MD, a urology registrar at Flinders Medical Centre in Adelaide, South Australia.
John presented the results July 1 at the European Association of Urology (EAU) 2022 Congress.
To date, the importance of positive surgical margin in patients with prostate cancer undergoing radical prostatectomy has remained controversial, with inconsistent outcomes reported in the literature.
To clarify the significance of positive margins, John and colleagues performed a literature search using the MEDLINE, EMBASE, and Cochrane databases, looking for studies exploring the role that extension of positive margins plays after radical prostatectomy and following strict protocols to help isolate high-quality studies.
The team identified 14 studies with sample sizes ranging from 117 to 579 patients, and mean follow-ups ranging from 1.6 to 7.1 years.
Overall, an estimated 27%-44% of patients with positive margins developed biochemical recurrence, and 6.8%-24.3% developed systemic progression.
In eight studies, continuous linear extension of positive surgical margins was predictive of biochemical recurrence (hazard ratio [HR], 1.03; P < .05). In two studies, a positive margin extension > 1 mm was associated with a twofold higher risk for biochemical recurrence (HR, 2.2, P < .05). And in the remaining four studies, a positive margin extension > 3 mm was associated with biochemical recurrence compared with an extension < 3 mm (HR, 1.69; P < .05).
The findings suggest that randomized controlled trials of adjuvant therapy in patients with larger positive surgical margins — 3 mm or more — are warranted, John said.
Steven Canfield, MD, who co-moderated the session but was not involved in the research, applauded the inclusion of only high-quality studies and stressed the importance of meta-analyses for helping answer challenging questions that can only be addressed by exploring larger datasets.
"Real-world evidence and big data claims will shed more light on prognostic factors like that, but in the meantime, we can use meta-analysis as a tool," Canfield, chief of urology at the University of Texas Houston McGovern Medical School, told Medscape Medical News.
The study was institutionally supported. John and Canfield reported no relevant financial disclosures.
European Association of Urology (EAU) Congress 2022. Abstract A0165. Presented July 1, 2022.
Neil Osterweil, an award-winning medical journalist, is a long-standing and frequent contributor to Medscape.
Follow Medscape on Facebook, Twitter, Instagram, and YouTube