NEW YORK – A questionnaire-based screening tool appears to accelerate the time to diagnosis of axial involvement in patients presenting with psoriasis but no clinical signs of joint pain, according to a study called ATTRACT that was presented at the annual meeting of the Group for Research and Assessment of Psoriasis and Psoriatic Arthritis.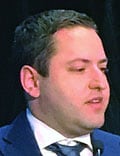 The risk of a delayed diagnosis of an axial component in patients with psoriasis, meaning a delay in the underlying diagnosis of psoriatic arthritis (PsA), is substantial, according to Devis Benfaremo, MD, of the department of clinical and molecular science at Marche Polytechnic University, Ancona, Italy.
There is "no consensus for the best strategy to achieve early detection of joint disease" in patients presenting with psoriasis, but Benfaremo pointed out that missing axial involvement is a particular problem because it is far more likely than swollen joints to be missed on clinical examination.
While about one in three patients with psoriasis have or will develop psoriatic arthritis, according to the National Psoriasis Foundation, delays in diagnosis are common, according to Benfaremo. In patients with undiagnosed PsA characterized by axial involvement alone, subtle symptoms can be overlooked or attributed to other causes.
There are several screening questionnaires to detect joint symptoms in patients presenting with psoriasis, such as the five-question Psoriasis Epidemiology Screening Tool, but the questionnaire tested in the ATTRACT trial is focused on detecting axial involvement specifically. It was characterized as the first to do so.
In the ongoing ATTRACT study, 253 patients with psoriasis but no history of PsA or axial disease have been enrolled so far. In the study, patients are screened for PsA based on a patient-completed yes-or-no questionnaire, which takes only a few minutes to complete.
"It is a validated questionnaire for axial [spondyloarthritis], but we have adopted it for detection of psoriasis patients with PsA," Benfaremo explained.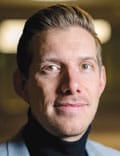 The questionnaire for axial spondyloarthritis (axSpA) was initially evaluated and validated by Fabian Proft, MD, head of the clinical trials unit at Charité Hospital, Berlin. In addition to a patient self-completed questionnaire, Proft and coinvestigators have also created a related questionnaire to be administered by physicians.
In the ATTRACT study, patients completed the questionnaire on an electronic device in the waiting room. Positive answers to specific questions about symptoms, which addressed back pain and joint function as well as joint symptoms, divided patients into three groups:
Group A patients did not respond positively to any of the symptom questions that would prompt suspicion of axial disease. These represented about one-third of those screened so far.

Group B patients were those who answered positively to at least two questions that related to a high suspicion of axial involvement. These represented 45% of patients.

The remaining patients were placed in Group C, a category of intermediate risk based on positive responses to some, but not all, questions relating to axial symptoms.
Those in group B are being referred to rheumatology. Patients in group C are given "conditional" eligibility based on the presence of additional risk factors.
AxSpA Screening Tool "Makes Sense" for Potential Use in PsA
The primary outcome of the ATTRACT trial is early identification of axial PsA. Correctly identifying patients with or without peripheral joint involvement is one of several secondary outcomes. The identification of patients who fulfill Assessment Spondyloarthritis International Society (ASAS) criteria for axSpA is another secondary outcome.
Of the 114 patients placed in group B and analyzed so far, 87 have completed an assessment by a rheumatologist with laboratory analyses and imaging, as well as a clinical examination.
Of those 87 assessed by a rheumatologist, 17 did not have either axial or peripheral inflammation. Another 19 were diagnosed with axial disease, including 14 who met ASAS criteria. A total of 10 were classified as having PsA with peripheral inflammation, according to Classification for Psoriatic Arthritis criteria, and 41 are still being considered for a diagnosis of axial or peripheral PsA on the basis of further workup.
"Among the patients with axial PsA, only 10% had elevated C-reactive protein levels," according to Benfaremo, echoing previous evidence that inflammatory biomarkers by themselves have limited value for identifying psoriasis patients at high risk of joint involvement.
The findings are preliminary, but Benfaremo reported that the questionnaire is showing promise for the routine stratification of patients who should be considered for a rheumatology consultation.
If further analyses validate the clinical utility of these stratifications, there is the potential for a substantial acceleration to the diagnosis of PsA.
When contacted to comment about this work, Proft said that there is an important need for new strategies reduce delay in the diagnosis of PsA among patients presenting with psoriasis. He thinks the screening tool he developed for axSpA "makes sense" as a potential tool in PsA.
"If validated, this could be a very useful for earlier identification of PsA," Proft said. He reiterated the importance of focusing on axial involvement.
"Previous screening tools have focused on symptoms of PsA more generally, but inflammation in the peripheral joints is something that you can easily see in most patients," he said.
In addition to the patient-completed questionnaire and the physician-administered questionnaire, Proft has also evaluated an online self-referral tool for patients.
"If we can diagnose PsA earlier in the course of disease, we can start treatment earlier, prevent or delay joint damage, and potentially improve outcomes for patients," Proft said. He considers this an important direction of research.
Benfaremo and Proft reported no potential conflicts of interest.
This article originally appeared on MDedge.com, part of the Medscape Professional Network.