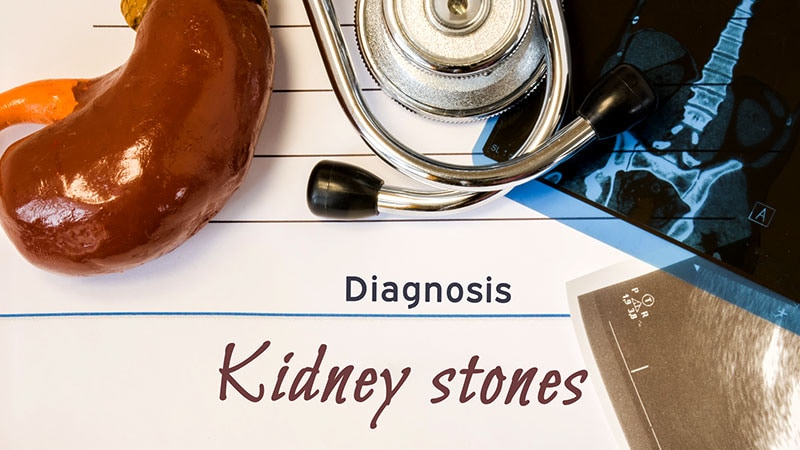 Removing small, asymptomatic kidney stones during surgery to take out a culprit ureteral or contralateral kidney stone led to less relapse — emergency department visits, surgeries, and secondary stone growth — compared with leaving the secondary stones in place.
These findings from a small randomized clinical trial with a median 4.2-year follow-up were published August 10 in the New England Journal of Medicine.
"Whether to remove small, asymptomatic kidney stones is a common surgical decision that currently lacks specific guidelines," write Mathew D. Sorensen, MD, and colleagues. The debate "has even extended to dueling editorials by experts in the field," they note.
The current data "add to a growing body of evidence that supports the efficacy and safety of single-setting treatment of ureteral and kidney stones, the combination of ureteroscopy and percutaneous nephrolithotomy, and bilateral endoscopic procedures," according to Sorensen, from the University of Washington School of Medicine, St. Louis, Missouri, and coauthors.
In an accompanying editorial, David S. Goldfarb, MD, writes: "Although the results are not surprising, the trial was worth conducting."
"The modern age of endourology features the use of notably smaller and more flexible endoscopes than ever before, which facilitated the success of the trial," said Goldfarb, New York Harbor Veterans Affairs Healthcare System and NYU Grossman School of Medicine.
The findings are important because "there is a high likelihood that 'silent' stones will become symptomatic [and] a preliminary cost–benefit analysis by the researchers suggested that healthcare dollars were saved, as well," adds Goldfarb.
Moreover, "patients who have had symptomatic stones often recall harrowing emergency department visits and dread a lack of appropriate analgesia." They "worry about the threat posed by those 'trivial,' 'benign' calcifications seen on imaging studies."
"One can imagine," he says, "that elective removal may allow these patients to avoid pain and trauma, inefficient and costly emergency department visits, infections, receipt of pain medications, and additional imaging studies."
Additional Surgery Is 25 Minutes Longer but Saves Money in Long Run
Participants were aged 21 and older and were scheduled to have endoscopic surgery (ureteroscopy or percutaneous nephrolithotomy) of a primary kidney or ureteral stone at participating large, urban, tertiary care US centers, from May 2015 to May 2020.
Patients also had at least one small (≤ 6 mm) asymptomatic stone on CT imaging.
Thirty-eight patients had secondary stones removed (treatment group) and 35 patients did not (control group).
During a mean follow-up of 4.2 years, 6 of 38 patients (16%) in the treatment group versus 22 of 35 patients (63%) in the control group had a relapse, the primary outcome.
The risk of relapse was 82% lower in the treatment group than in the control group (hazard ratio, 0.18; 95% CI, 0.07 – 0.44).
The time to relapse was also 75% longer in the treatment group than in the control group (4.47 versus 2.56 years).
Treatment of secondary stones added a median of 25.6 minutes to the surgery time. However, it did not increase emergency department visits within 2 weeks after surgery, all for stent pain (13% in the treatment group vs 11% in the control group), new stone formation (37% in both groups), or self-reported stone passage (21% vs 29%).
"The additional 25 minutes needed to remove small, asymptomatic renal stones at the time of surgery for a primary stone…should be weighed against the potential need for repeat surgery in the 63% of patients who had a relapse," Sorensen and colleagues write.
They estimate that "100 surgical procedures with 25 additional minutes at $36 per minute would add $90,000 to the cost of the surgeries, whereas 63 emergency department visits at an average cost of $3,437 per visit would cost an estimated $217,000 — 2.4 times as much."
Questions Remain, Possible Future Nonsurgical Approaches
The researchers acknowledge that the study was relatively small, and few patients were non-White.
Several questions remain, according to Goldfarb.
He wonders whether general urologists would be as capable as endourologists, whether the procedure could be applied to secondary stones larger than 6 mm, and whether the number of secondary stones affects the surgery time.
Only about 25% of patients in both groups were prescribed preventive medications, he also notes, and greater use of these may have changed the results.
"Finally, and most provocatively," Goldfarb speculates, "when should asymptomatic stones be removed endoscopically? Only when a primary obstructing ureteral stone or a large, asymptomatic stone in the kidney is present, as this protocol dictated?"
"Asymptomatic stones are identified frequently and, most often, surgery is not recommended," he notes.
"An alternative to preemptive surgical intervention," he suggests, "would be to finally figure out how to make those small stones detach and pass spontaneously."
The researchers suggest that "future advances, such as transcutaneous ultrasonography to break and expel stones without the need for surgery or anesthesia, and data from validated quality-of-life measurement tools may further tilt the balance in favor of early intervention."
The study was supported by a grant from the National Institute of Diabetes and Digestive and Kidney Diseases of the National Institute of Health and by the Veterans Affairs Puget Sound Health Care System. Author and editorialist disclosures are available with the article and editorial.
N Engl J Med. Published online August 10, 2022. Abstract, Editorial
Follow Medscape on Facebook, Twitter, Instagram, and YouTube.